U.S. Accuses Hezbollah of Aiding Syria's Crackdown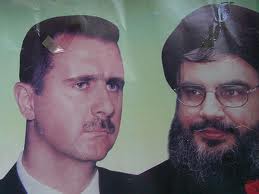 The United States accused the Lebanese militant group Hezbollah on Friday of deep involvement in the Syrian government's violent campaign to crush the uprising there, asserting that Hezbollah has trained and advised government forces inside Syria and has helped to expel opposition fighters from areas within the country.
The American accusations, which were contained in coordinated announcements by the Treasury and State Departments announcing new sanctions against Syria, also accused Hezbollah of assisting operatives of Iran's Revolutionary Guards Quds Force in training Syrian forces inside Syria. A Treasury statement said the Hezbollah secretary general, Hassan Nasrallah, had overseen those activities, which it called part of the Syria government's "increasingly ruthless efforts to fight against the opposition."
The accusations, which went beyond previous American charges about Hezbollah support for Syria's government, seemed intended to counter critics of the Obama administration who say that the White House is not doing enough to support the Syrian opposition now that diplomatic efforts to resolve the conflict are paralyzed.
Some Hezbollah experts expressed considerable skepticism, however, saying that the accusations should be approached with caution unless more evidence was presented.
The accusations were also part of an effort to further draw attention to the Hezbollah-Iran alliance, which American and Israeli intelligence officials have sought to portray as a subversive collaboration that has not only destabilized the Middle East but has been implicated in terrorist violence elsewhere, including a deadly bus bombing of Israeli tourists in Bulgaria last month.
In a related announcement, the State Department said the United States had blacklisted Sytrol, a state-owned Syrian oil company, accusing it of bartering gasoline with Iran in violation of American sanctions over the disputed Iranian nuclear program. The announcement said the United States "remains deeply concerned about the close ties shared by the Iranian and Syrian regimes and is committed to using every tool available to prevent regional destabilization."
The accusations were made a few days after Iran's top national security official, Saeed Jalili, visited Syria and assured its embattled president, Bashar al-Assad, that Iran, Syria and Hezbollah were an unbreakable axis of resistance to Israel and its Western allies, reinforcing Syria's evolving role as the arena of a proxy war pitting Iran and its friends against the West.
American officials would not provide evidence for the new accusations against Hezbollah and avoided specifying whether its operatives were engaged in combat inside Syria, as some anti-Assad fighters have asserted. But the accusations appeared to open a new avenue of American pressure on Syria's government and to be a way to embarrass Mr. Nasrallah, a powerful figure whose unwavering public support for Mr. Assad has created political strains in his home base of Lebanon.
Many Lebanese support the uprising against Mr. Assad and his ruling Alawite minority, and thousands of Syrian refugees from Mr. Assad's crackdown have fled to Lebanon.
"Hezbollah is actively providing support to the Assad regime as it carries out its bloody campaign against the Syrian people," David. S. Cohen, the Treasury's under secretary for terrorism and financial intelligence, told reporters in a telephone conference call. He said the designation of Hezbollah in a Treasury Department sanction makes "clear to parties around the world — both domestically and internationally — the true nature of Hezbollah's activities."
The State Department's coordinator for counterterrorism, Daniel Benjamin, who also participated in the call, said, "Hezbollah's actions in Syria underscore its fears of a Syria without the Assad regime and the impact that this would have on the group's capabilities and its strength over the long term."
Despite repeated questioning, neither official would provide details to support the accusations, or specific evidence of how they had reached their conclusions. "This is not a matter of idle speculation or press reports," Mr. Benjamin said. "This is based on a great deal of information-gathering that we have done and we've synthesized and we've put it together in an authoritative document, and we believe that it will be taken seriously by many around the world."
An American official, who spoke on condition of anonymity, said Hezbollah was using "its specialized skill set and understanding of insurgencies" to aid Syria. "The group's deep familiarity with the Syrian landscape makes it a nimble and effective military partner," the official said. "Even though at current levels its assistance probably won't change the outcome of the conflict, it's prolonging the fight and contributing to the deaths of innocent civilians."
Both Hezbollah and Iran have repeatedly denied that they have aided Mr. Assad's military. They have supported his contention that the uprising against him is led by terrorist groups armed by Sunni Arab monarchies, Israel and the United States.
Nonetheless, Mr. Nasrallah has made no secret of his support for Mr. Assad, extolling his leadership after the assassination of top presidential aides in a Damascus bombing carried out by insurgents last month. "These martyr leaders were comrades in arms in the conflict with the Israeli enemy," he said.
Hezbollah has long been classified as a terrorist organization by the United States and Israel. But Hezbollah also is an important political party and a welfare organization in Lebanon, with a long history of helping the country's Shiite Muslim and Palestinian populations.
Matthew Levitt, director of the program on counterterrorism and intelligence at the Washington Institute for Near East Policy, said that while broad accusations of Hezbollah involvement in the Syrian conflict were not new, the Treasury statement ratcheted up the pressure because the United States government was stating them as fact and adding that Mr. Nasrallah was personally overseeing the assistance. He said the statement appeared to be an attempt to embarrass Hezbollah and Iran politically, rather than to exact a practical toll through sanctions.
"The sanction effect of this is minimal," he said. "This is a name-and-shame exposé type of an action."
Other scholars of Middle East politics questioned the accuracy of the accusations against Hezbollah, saying it probably is giving Mr. Assad only limited military help. They note that while Hezbollah has a strategic interest in protecting Mr. Assad, it is also a savvy political operator that may need to hedge its bets if Mr. Assad is deposed and replaced by a Sunni-led government. They also said Hezbollah's power in Lebanon depended partly on maintaining a Lebanese nationalist image rather than a sectarian Shiite one.
"There's not a lot of meat in it," Augustus Richard Norton, a professor of international relations at Boston University, said of the Treasury sanction. "My reading — and I'm sure this isn't a popular reading in Washington in some quarters — is that Hezbollah has been taking a very low-key approach to the Syrian crisis precisely because they have such high domestic stakes in Lebanon."
Others said they needed to see more facts behind the American charges. Yezid Sayigh, a scholar of Arab militaries and a senior associate at the Carnegie Middle East Center in Beirut, said the accusations may be based on "an extremely specific and narrow form of assistance, while giving the impression that Hezbollah is involved in giving a much wider range of assistance."
In Syria, the focus of the conflict continued on Friday to be the siege of Aleppo, the largest city, where insurgents have been battling government forces backed by jets, helicopters, artillery and tanks, and have retreated from some neighborhoods. Rebel commanders have complained in recent days of ammunition shortages, and some have criticized Western countries for not moving more aggressively to help them.
Britain, however, seemed to move a step closer to aid the rebel side. Foreign Secretary William Hague said the British government would establish official contacts with insurgents inside Syria and expand its nonlethal aid to groups fighting under the banner of the Free Syrian Army.