Syrian rebels plan new attack to regain ground in Aleppo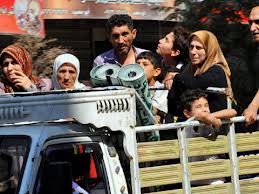 Rebels fighting Syrian President Bashar al-Assad's forces in Aleppo promised on Friday they will hit back after losing ground under heavy bombardment, and residents fled in cars crammed with belongings during a lull in fighting.
The rebels were pushed back from the Salaheddine district on Thursday by troops seeking to re-establish control over Aleppo, which is Syria's largest city and economic hub.
"I have about 60 men positioned strategically at the front line and we are preparing a new attack today," said Abu Jamil, a rebel commander, saying sniper fire in Salaheddine had prevented his men from retrieving a comrade's body for two days.
Reuters journalists saw residents streaming out of Aleppo, seizing on a calm spell to pack vehicles with mattresses, fridges and toys. At least two air force planes and one drone flew overhead. Random shooting echoed from inside Salaheddine, a former rebel stronghold that controls access from the south.
Some residents of the shattered neighborhood slipped back to try to salvage possessions, despite army snipers lurking there. Two civilians were hit by gunfire in nearby streets.
One, apparently shot in the buttocks, was dragged off the street by rebels and treated by medics before being taken to a field clinic. A second man was wounded in the back and arm. Blood soaked through the sleeve of his yellow jacket and his face was contorted in pain as rescuers put him in a vehicle.
In an apparent effort to project an air of normalcy, state television screened footage dated August 10 of a calm Aleppo, including images of its ancient citadel – U.N. World Heritage site – and cars flowing freely around a traffic circle.
In Damascus, residents reported shelling of the south-eastern district of Shebaa and said nine tanks could be seen on the road heading out to the airport.
Assad seeks to crush a rebellion against his family's 42 year rule of the pivotal Arab state. A member of Syria's Alawite minority, he is engaged in an all-consuming fight with mostly Sunni Muslim foes who are backed by Sunni-led states such as Saudi Arabia, Qatar and Turkey.
NEW U.S. SANCTIONS IN PIPELINE
The United States was preparing to announce further sanctions on Friday targeting the Syrian government and people or firms that support it, a senior U.S. official told reporters travelling with U.S. Secretary of State Hillary Clinton.
Repeated rounds of U.S. and European sanctions, announced every few months, have had a negligible impact on the war. Russia and China have blocked U.N. Security Council action that would have allowed tighter, global sanctions against Damascus.
Iran, Syria's closest foreign ally, called for "serious and inclusive" talks between the government and opposition at a meeting of states sympathetic to Assad in Tehran on Thursday.
"There will be no winner in Syria," U.N. Secretary General Ban Ki-moon said in a message to the conference. "Now, we face the grim possibility of long-term civil war destroying Syria's rich tapestry of interwoven communities.
Diplomats said veteran Algerian diplomat Lakhdar Brahimi could be named next week to replace the U.N.-Arab League envoy to Syria, Kofi Annan, who quit in frustration after his peacemaking efforts proved futile.
Assad's offensive to reassert control over Aleppo follows a successful drive to expel rebels from parts of Damascus they seized after a bomb blast in the capital killed four of his senior aides on July 18.
His grip on the country has been eroded and his authority was further shaken by his prime minister's defection this week, but his security forces have also consistently demonstrated an overwhelming firepower advantage against lightly-armed rebels.
Reuters journalists saw a fighter jet diving and firing rockets on Thursday over Tel Rifaat, 35 km (20 miles) north of Aleppo. Villagers fled in panic.
Rebels said on Friday they had seized control of a weapons depot in Aleppo containing 5,000 rifles, with ammunition. Video footage showed scores of guns, although it was impossible to verify the total size of the haul.
The ancient city of 2.5 million people has been battered by government artillery for days. An insurgent commander said on Thursday that 250 people had been killed in recent days in the Salaheddine district. The figure could not be verified.
However, there has yet to be a sign of an infantry advance, needed for Assad to retake full control of the city.
Rebel commander Abu Furat al-Garabolsy told Reuters one reason could be faltering morale among Assad's troops, although he said the military could also be delaying a ground assault to tire out rebels with bombardment and deplete their ammunition.
Growing numbers of civilians are fleeing the fighting in Aleppo and elsewhere. Nearly 150,000 Syrian refugees have been registered in Turkey, Jordan, Lebanon and Iraq since the conflict began 17 months ago, the United Nations said on Friday.
The total includes 50,227 recorded in Turkey, where more than 6,000 Syrians arrived this week, it said.
Reuters