Mikati: Samaha's arrest not related to Hariri court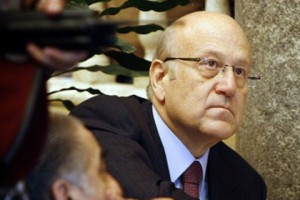 Lebanese Prime Minister Najib Mikati said Thursday that the arrest of former Information Minister and MP Michel Samaha was not related to the Special Tribunal for Lebanon ( STL) .
STL is probing the killing of former Lebanese Premier Rafik Hariri. Four Hezbollah members were indicted in the assassination, but the Iranian and Syrian backed Hezbollah has strongly denied the charges and refused to cooperate with the tribunal.
Acting General Prosecutor Judge Samir Hammoud issued an arrest warrant for Samaha's over involvement in "security incidents." These "incidents" are in no way related to the STL, head of the Journalists Union, Elias Aoun, quoted Mikati as saying after a meeting between the premier and the Journalists Union council.