Iran calls for Syria talks between government, opposition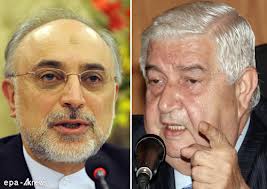 Iranian Foreign Minister Ali Akbar Salehi on Thursday called for "serious and inclusive" talks between the Syrian government and opposition groups, warning that internal dialogue was the only way to resolve the crisis.
"The Islamic Republic of Iran firmly believes that the Syrian crisis can only be resolved through serious and inclusive talks between the government and opposition groups that enjoy popular support in Syria," Salehi said at the start of a conference in Tehran to discuss the unrest.
In the speech broadcast on Iranian television, Salehi said that Iran "rejects any foreign and military intervention in Syrian and backs and supports U.N. efforts to resolve the crisis".
Reuters