Syrian Refugees Seek Out Smugglers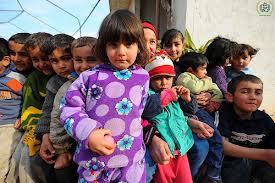 The United Nations says more than 30,000 Syrians have sought refuge from their country's conflict in neighboring Lebanon. Many of those refugees have sought out smugglers to spirit them to safety.
Umm Shaker used to work at the Syrian Army base in Baba Amr in Homs. She said she saw how the army began to kill people protesting against the government after Friday prayers.
"We used to see the killing in front of us. We saw how they used to shoot randomly on demonstrators after Friday prayers. The army raided houses. If they couldn't steal from the house, they would burn it down or kill its owner," she said.
Desperate undertaking
So Shaker decided she needed to get her four young children out of Homs, moving to another town for several months. But after one of her sons was hit by shrapnel last month, she decided to take the risk of being smuggled into Lebanon.
"The Free Army helped me to flee. We fled through the fields and the Free Army helped to protect the kids," said Shaker.
Shaker said the rebels helped her for free, but others like Abu Skandar pay smugglers what is for them exorbitant sums to move their families across the border. A loose network of activists, rebels and businessmen has been smuggling refugees out of Syria.
"We bribed the officers and I snuck my family through the border. Normally the road from Hama to Tripoli takes two-and-a-half hours, but because of the situation, it took my wife about 12 hours," said Skandar.
Costly smuggling stream
Skandar said he paid about $400 to smuggle his family into Lebanon – the equivalent of nearly two months salary. Now they live in a cramped one-room apartment in a poor section of town.
He said his life before the protests was good, but the Syrian government treated people poorly.
"My financial situation is good, thank God. I have a two-story home, a car, and a shop, and I had a job as a warehouse supervisor, too. But I felt that there was so much injustice from the government, and if you need to do anything you need to have a partner in the government," said Skandar.
As fighting rages in Syria, the United Nations refugee commissioner predicts a "gigantic outflow" of Syrians, which is only likely to increase the smuggling stream.
VOA