Jumblatt: Defense Strategy to only serve Lebanon, not Hormuz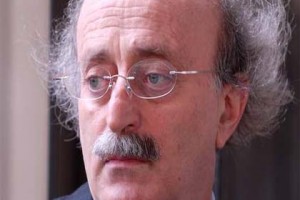 Progressive Socialist Party leader MP Walid Jumblatt praised on Monday President Michel Suleiman's recent stances.
In his weekly editorial in the al-Anbaa magazine Jumblatt wrote: "We are seeking arms for the defense of Lebanon only. We don't want a defense strategy that serves the strait of Hormuz or any other area." A possible reference to Hezbollah and its backer Iran, which has been threatening to close Hormuz if attacked by outside forces.
"It's true that we had said in past ministerial statements that we support the cooperation of the people, army, and resistance, but clarifications should be made over how this cooperation would take place," he wrote. This is an exact reiteration of what Suleiman told the Shouf MPs who visited him in Beiteddine last weekend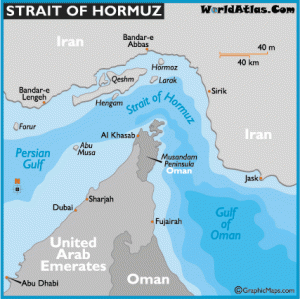 "This cooperation should be aimed against Israel and not serve any other purposes," Jumblatt said . A possible reference to Hezbollah's use of its "resistance" arms for political gains inside Lebanon since its 2006 war with Israel
Jumblat stressed the need for devising a defense strategy for Lebanon "that would prevent the country from once again becoming an open ground for political messages, as it did during the days of the Palestinian Liberation Organization and Syrian hegemony."
Commenting on the visit to Lebanon by the secretary of Iran's Supreme National Security Council  and its  chief nuclear negotiator Saeed Jalili , Jumblatt noted:
"We acknowledge his security and strategic concerns, but instead of spreading weapons here and there he should have catered to the internal affairs of his country, where the price of chicken has become more expensive than rockets".  A possible reference to the high  inflation in Iran ( about 23% ) and the  continued devaluation of the Iranian currency "Rial" both of which have reduced the purchasing power of the Iranian  people.
Commenting on Hezbollah chief Sayyed Hassan Nasrallah's recent remarks that Lebanon is need of a liberation strategy in addition to a defense one, Jumblatt said: "This demand requires first and foremost the demarcation of the Lebanese-Syrian border, as stipulated during previous national dialogue sessions."
"This will help prevent Lebanon from once again becoming a pawn in international nuclear negotiations or regional developments," he stressed
Commenting on the Syrian crisis, Jumblatt noted: "The weapons used by the regime against its own people could have been used to liberate the occupied Golan Heights several times."
Jalili
The Iranian official commented upon arrival on Monday at Beirut airport about the current situation in the Syria and said that "enemies of the region" did not want the Muslim community to live in security and stability.
"I think we should all work together via intensive and continuous contacts, consultations and an exchange of opinions in what serves the Muslim community and the interests of the people and countries of this region," Jalili added.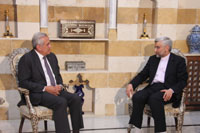 The Iranian official headed to Beiteddine palace  to meet with  President Michel Suleiman to discuss regional and international developments as well as bilateral ties . He is expected to meet later  with  Speaker Nabih Berri, Prime Minister Najib Mikati and Foreign Minister Adnan Mansour.
An Nahar reported Sunday that Jalili is scheduled to also attend an Iranian Embassy iftar on the occasion of Quds Day, which falls on Monday. Some unconfirmed reports indicated that the visiting Iranian official like all others before him may also meet privately with Hezbollah Secretary General Sayyed Hassan Nasrallah.
Like Iran , Hezbollah has been supportive of the crackdown against the pro-democracy protesters by Syrian president president Bashar al Assad. Over 20,000 Syrians, mainly civilians have been killed in the 17 months uprising according to activists
Naharnet, Ya Libnan