Suicide bomber kills 25 in southern Yemen
A suicide bomber struck at a funeral in a village in Yemen's southern province of Abyan overnight, killing at least 25 tribal fighters and wounding dozens more, officials and medics said on Sunday.
The bomber targeted tribesmen who fought alongside the Yemeni army during an offensive against al Qaeda-linked militants in Abyan that the government hailed as a major victory in June.
"We have many people with critical injuries and we don't have the means to treat them," said a doctor at al-Razi hospital, which was filling up with the wounded.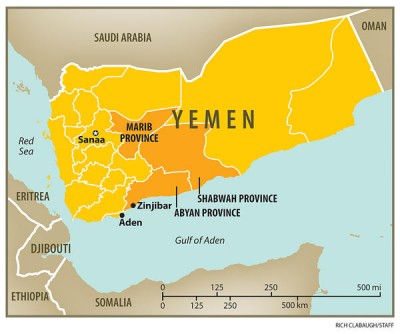 The attack highlighted the enduring threat of Islamist militancy in Yemen and may alarm the United States and Saudi Arabia, which increasingly view the impoverished state as a front line in their war on al Qaeda and its affiliates.
East of Abyan, a U.S. drone fired on a vehicle carrying suspected militants in the province of Hadramout, killing its three passengers, a local official said.
"The charred bodies of three men from (the militant group) Ansar al-Sharia were found and the car they were in was destroyed," said the official.
Ansar al-Sharia (Partisans of Islamic Law) seized several towns in Abyan last year, establishing a foothold there while then-President Ali Abdullah Saleh was grappling with mass protests that eventually toppled him.
The United States supported the military campaign that drove the Islamist fighters from their strongholds in June, but residents and analysts say the militants are simply lying low and waiting for a chance to regroup.
Just last week, militants attacked a police station in the southern city of Jaar, killing four policemen and wounding a fifth.
In late July, militants launched an assault on the village of Batias, north of Jaar, which was also the site of Saturday's suicide bomb.
Reuters