FSA: Iranians kidnapped in Syria are Revolutionary Guards
Al-Arabiya TV aired footage on Sunday of the "Free Syrian Army" abduction of 48 Iranians in Damascus in which an FSA officer charges the hostages of being elite Iranian Revolutionary Guards.
"FSA captured 48 of the shabiha (militiamen) of Iran who were on a reconnaissance mission in Damascus," said a man dressed as an officer of the Free Syrian Army, in the video screened by the Dubai-based Al-Arabiya TV
"During the investigation, we found that some of them were officers in the Revolutionary Guards," he said, showing documents taken from one of the men, who appeared in the background.
Iranian state TV reported yesterday that gunmen kidnapped 48 Iranian pilgrims visiting a holy site revered by Shiites in a suburb of the Syrian capital, Damascus.
The pilgrims were in a tour bus heading to the Sayeda Zeinab mosque on Saturday when gunmen seized them, according to Al-Alam TV, Iran's state-run Arabic news channel.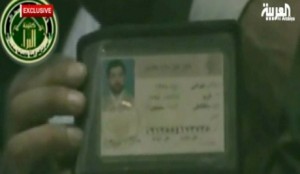 Iran asks Turkey , Qatar for help
Iran has asked Turkey and Qatar to help free the 48 Iranian pilgrims who are being held in Syria
Iranian Foreign Minister Ali Akbar Salehi telephoned his Turkish and Qatari counterparts, Ahmet Davutoglu and Hamad bin Jasim bin Jabir Al Thani, late Saturday to request his assistance, the state television website reported.
"During a telephone conversation, Ali Akbar Salehi asked Ahmet Davutoglu for Turkey's immediate intervention to liberate the Iranian pilgrims held hostage in Syria," it said.
Davutoglu responded by promising "to study the issue and to carry out efforts as in previous cases," it said.
Turkey played a role earlier this year in helping to free several other Iranians who had been kidnapped in Syria.
Several groups of Iranians have been abducted in Syria since the uprising began.
Five Iranian engineers were kidnapped in the flashpoint city of Homs in December. Iranian media said that they had all been released by last month. A group of pilgrims were snatched in January and another in February. Most have been released, Iranian media reported.
Al Arabiya