2 of the 11 Lebanese kidnapped in Syria freed, LBC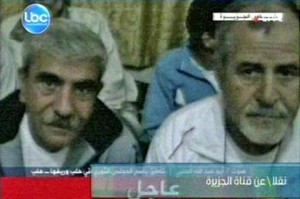 Several of the 11 Lebanese who were kidnapped in Syria in May have escaped their captors, according to unconfirmed reports by Arab media.
Lebanon's LBCI reported based on its own sources that an armed group had raided the place where the 11 pilgrims were being held which led to the fleeing of two members of the group and wounding one one of their abductors, Abu Ibrahim.
Lebanon's Al-Jadeed TV, quoting sources from the Syrian opposition confirming LBCI report
Earlier, LBCI said there was information that several members of the group of pilgrims fled their captors amid shelling that targeted the place where they were being held. It said information indicated that the captors had taken the remaining kidnapped men to an undisclosed location.
This development follows an August 1 report by LBCI television that said one of the 11 abducted Lebanese Shiite pilgrims in Syria, has managed to escape from his captors for a few hours before being recaptured.
The Shiite pilgrims were abducted May 22 after crossing into Syria from Turkey on their way from Iran to Lebanon. A previously unheard of group calling itself "Syrian Rebels in Aleppo" claimed responsibility, saying five of the hostages were members of the militant Lebanese Hezbollah group. The group and their families deny that.
"We have decided to keep the Lebanese abductees after we learned that some of them are involved in the crimes and massacres committed by the regime and they are currently under interrogation," a man who identified himself as Abu Abdullah al-Halabi, the group's spokesman, told Al-Jazeera last May.
A statement by the kidnappers was sent to Al-Jazeera last May which stated that the negotiations to release the abductees "would only be possible after (Hezbollah chief Sayyed Hassan) Nasrallah apologizes for his latest speech." In his speech last May , Nasrallah thanked the Syrian authorities and President Bashar Assad for providing the plane that transported the women that were freed by the kidnappers to Beirut hours after the abduction of the men. Nasrallah also said in his speech : "If this abduction was aimed at putting pressure on our position (of support for Syria)," it failed.