Lebanon celebrates its 67th "Army day", update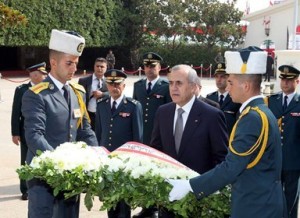 On Wednesday August 1 which marks Lebanon's 67th Army Day, a ceremony was held at the Shukri Ghanem barracks in Fayyadiyeh in the presence of the country's top three leaders to mark the Lebanese army's 67th anniversary.
As on previous occasions president Suleiman is expected to deliver a speech in which he is expected to talk about the current developments in Lebanon and the region.
Speaker Nabih Berri, PM Najib Mikati and other top political and military officials attended the celebration .
More updates to follow
Suleiman's speech
In his speech President Michel Suleiman praised the Lebanese army's decision to sue Akkar MP Moeen al-Merehbi for attacking the military establishment and insulting its chief Gen. Jean Kahwaji.
He said the army is a fair and capable force that works in accordance with the law and "accepts being held accountable through legal means."
The military "protects and does not attack, it builds and does not destroy." The president added.
He called for steering Lebanon clear of the policy of regional axes and conflicts.
He also refused turning Lebanese territories into a corridor for arms and gunmen and said the state will reject forcing the army into giving up its duties in any part of Lebanon.
Addressing the sectarian tensions, the president called for political coexistence and rejected mini states spread on the sidelines of the Lebanese state.
Addressing the controversial issue of national defense strategy, Suleiman said the strategy should be based on the army to confront the enemy's plots against Lebanon.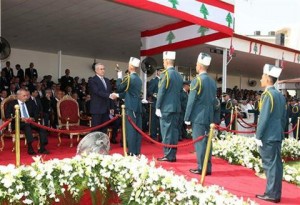 This particular issue has been a high source of contention between the Iranian and Syrian backed Hezbollah and the Arab and western backed March 14 opposition which calls for strengthening the state by integrating the party's arms with those of the Lebanese army.