Families of the 11 abducted Lebanese to protest in Baabda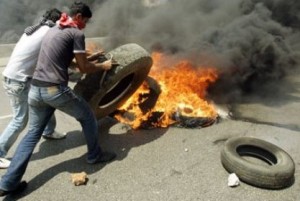 The families of the 11 Lebanese pilgrims kidnapped in Syria are planning a protest near the presidential palace in Baabda , east of the capital Beirut starting at 11:00 am Tuesday.
Their aim is to protest against the " failure of the Lebanese government and president Michel Suleiman in securing their release" and will urge the president to do more to free them.
The Shiite pilgrims were abducted May 22 after crossing into Syria from Turkey on their way from Iran to Lebanon. A previously unheard of group calling itself "Syrian Rebels in Aleppo" claimed responsibility, saying five of the hostages were members of the militant Lebanese Hezbollah group. The group and their families deny that.
"We have decided to keep the Lebanese abductees after we learned that some of them are involved in the crimes and massacres committed by the regime and they are currently under interrogation," a man who identified himself as Abu Abdullah al-Halabi, the group's spokesman, told Al-Jazeera last May.
A statement by the kidnappers was sent to Al-Jazeera which stated said negotiations to release the abductees "would only be possible after (Hezbollah chief Sayyed Hassan) Nasrallah apologizes for his latest speech." In his speech , Nasrallah thanked the Syrian authorities and President Bashar Assad for providing the plane that transported the women that were freed by the kidnappers to Beirut hours after the abduction of the men. Nasrallah also said in his speech : "If this abduction was aimed at putting pressure on our position (of support for Syria)," it failed.
Nasrallah blamed
One of the kidnapped Lebanese Shiite pilgrims in Syria on Sunday confirmed that the 11 kidnapped men are in the remote Aleppo area of Aazaz, blaming the Hezbollah chief , without naming him, for their protracted captivity.
"We are in good health and we are in the remote Aazaz area which is liberated and not witnessing any bombardment," Hostage Ali Abbas said in a phone interview with LBCI.
Addressing the Lebanese officials, Abbas added: "We have been outside Lebanon for three months now and we don't know what you are waiting for. You are liars and we don't know why you have abandoned us."
"We are the victims of a futile state and useless officials," Abbas went on to say.
Asked whom he was referring to, the Abbas answered: "I'm referring to the person who has refused to apologize and I'm speaking in the name of everyone here."
Speaking to LBCI on Sunday, Ali Hussein Zgheib, another hostage, said: "It seems that we are only numbers and I would have liked to see more attention from the president and all the MPs."
"There are reluctant and meaningless initiatives and they should have talked to our hosts," Zgheib said, adding that "had there been successful negotiations, we would have been freed."
One of the abductors, who identified himself as Abu Ibrahim, told LBCI: "There is no problem in releasing the hostages but they are happy here and God willing they will return soon to their families."
"We have fears concerning the checkpoints they will have to cross and concerning Assad's gangs," Abu Ibrahim added.
In another interview with the Beirut-based, pan-Arab television al-Mayadeen, Abu Ibrahim said: "Remarks that the hostages would be released in the month of Ramadan are baseless and they have not been released for security reasons."
"I have not negotiated with anyone and I don't know anything about all the remarks broadcast on television. There are brokers who are only after money and we have not demanded any sum of money at all," Abu Ibrahim added.
Abu Ibrahim said Ankara had tried to negotiate with his group several times, but added that he asked the Turkish officials to stop trying because "this is a domestic Syrian issue."