Syria's top diplomat to Britain defects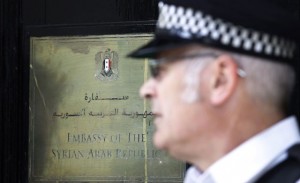 Syria's top diplomat to Britain defected on Monday, according to the British Foreign Office, striking a blow against the beleaguered government of President Bashar al-Assad as tens of thousands fled heavy fighting in Aleppo, the most populous city in the country and its commercial capital.
Khaled al-Ayoubi, the charge d'affaires at the Syrian embassy in London, is only the latest in a string of recent defections that has included Manaf Tlass, a senior military figure and personal friend of Assad, as well as the former ambassador to Iraq Nawaf Fares, the charge d'affaires in Cyprus and the ambassador to the United Arab Emirates.
"Mr. al-Ayoubi has told us that he is no longer willing to represent a regime that has committed such violent and oppressive acts against its own people, and is therefore unable to continue in his position," the Foreign Office said in a statement. "We urge others around Bashar Al-Assad to follow Mr. al-Ayoubi's example."
Ayoubi was the top ranking Syrian diplomat in London following Syria's withdrawal of its ambassador and Britain's expulsion of the acting head of the embassy.
The defection was a symbolic setback, but the Syrian government is trying to project an image of strength as it ramps up its offensive in Aleppo, sending more than 200,000 people scrambling for safety since this weekend, according to a statement from United Nations humanitarian chief Valerie Amos. Many more people could still be trapped by fighting inside the city, Amos said.
The Syrian government sent a clear message on Sunday that it doesn't want any outside interference as it continues the crackdown when the army attacked the convoy of the new head of the U.N. observer team, Lt. Gen. Babacar Gaye, while on a trip outside Damascus. "Yesterday the convoy of General Gaye was attacked by army tanks," U.N. Secretary-General Ban Ki-moon told reporters in New York. "Fortunately there were no injuries."
Gaye visited Rastan and Homs on Sunday, where he witnessed the fighting and infrastructure damage first-hand and even met with members of the rebel Free Syrian Army (FSA) to discuss the possibility of political dialogue.
Col. Qassem Saad Eddine, the spokesperson of the Free Syrian Army Joint Command who met with Gaye, posted a video statement online Sunday describing the FSA's plans for a political transition after Assad. The plan calls for power sharing between leaders of the FSA and the civilian opposition and describes the creation of a number of political and military councils that would oversee the drafting of a new constitution and elections.
The Syrian military continued its assault in Aleppo Monday with planes bombing residential areas and helicopters firing rockets at rebel positions, according to the Local Coordination Committees (LCC), an activist network. One of the hardest hit neighborhoods was Salahuddin, where fierce street fighting broke out between rebels and government soldiers, according to opposition groups. A video circulated by the LCC showed bodies of young men lying in pools of blood allegedly inside a building in Salahuddin.
Both sides claimed to be making progress in their battle to control the city on Monday but it was impossible to confirm either claim. The rebels did appear to take control of a government military base outside Aleppo after an hours-long battle overnight, CNN reported, which gave them access to some heavier weapons.
Life is becoming increasingly grim for those left behind in Aleppo. Residents fleeing heavy fighting in some neighborhoods have taken shelter on the campus of Aleppo University; some are even sleeping in parks or inside their cars. Prices for basic goods like fuel and bread have spiked and there are electricity and water cuts throughout the day, residents said.
"Who cuts the water in Ramadan?" asked a 20-year old man from Aleppo in a chat on MSN Messenger, referring to the Muslim holy month. "People are fasting! This is sinful."
Another young man in Aleppo said he went to get his passport renewed on Sunday and was told that the head of the office had been kidnapped. "The situation escalated here before I managed to leave the country," the young man, 24, said in a chat also on MSN Messenger.
The Syrian army also continued to shell a handful of neighborhoods in Damascus on Monday, according to opposition groups, only a day after Foreign Minister Walid Moallem claimed rebels had been defeated in the capital.
At least 90 people were killed in fighting across the country on Monday, including 26 people in Damascus and 25 in Aleppo, according to the LCC.
The Syrian government took another diplomatic hit on Monday as the embassy in Australia was closed, according to ABC Australian television.
Washington post