Syria's Aleppo is nail in Assad's coffin, says Panetta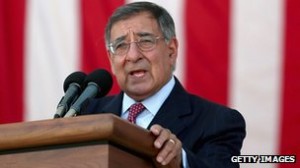 US Defence Secretary Leon Panetta says Syrian President Bashar al-Assad's assault on the city of Aleppo will be "a nail in his coffin".
Mr Panetta was speaking at the start of a five-day Middle East tour.
Heavy fighting is continuing in Syria's largest city where government forces are trying to oust rebel fighters.
UN humanitarian chief Valerie Amos said 200,000 people had fled the fighting in Aleppo and that an unknown number were trapped.
She said that the city urgently needed supplies including food and water.
Mr Panetta said the Syrian crisis was deepening and that President Assad was hastening his own demise.
"If they continue this kind of tragic attack on their own people… I think it ultimately will be a nail in Assad's coffin," he told reporters.
"What Assad has been doing to his own people and what he continues to do to his own people makes clear that his regime is coming to an end. It's lost all legitimacy."
He added: "It's no longer a question of whether he's coming to an end, it's when."
Mr Panetta's tour will include talks in Tunisia, Egypt, Israel and Jordan.
He said he aimed to reinforce an international consensus that Mr Assad must step down and allow a peaceful transition to democracy.
The defence secretary said he would also continue efforts to ensure that Syria's stockpiles of chemical weapons did not fall into the wrong hands.
Baroness Amos, speaking in New York, said that the Red Cross and the Syrian Arab Red Crescent estimated that 200,000 people have fled Aleppo and surrounding areas in the past two days.
"It is not known how many people remain trapped in places where fighting continues today," she said.
"I call on all parties to the fighting to ensure that they do not target civilians and that they allow humanitarian organisations safe access."
UK-based activist group the Syrian Observatory for Human Rights described the situation in Aleppo as "a full-scale street war".
The BBC's Ian Pannell, who was in Aleppo on Saturday, said government troops were trying to push into rebel-held neighbourhoods and there was fierce fighting.
Civilians are facing power cuts and food shortages, he says.
Late on Sunday, Syrian troops said they had recaptured the south-west district of Salah al-Din from the rebels.
"Complete control of Salah al-Din has been (won back) from those mercenary gunmen," a military officer told Syrian state TV.
"In a few days safety and security will return to the city of Aleppo."
Battle-hardened
Our correspondent says that although the rebels are outgunned, they are fighting an effective guerrilla war in the streets of the city.
Many are more battle-hardened than their adversaries and they are making their own improvised explosive devices, he adds.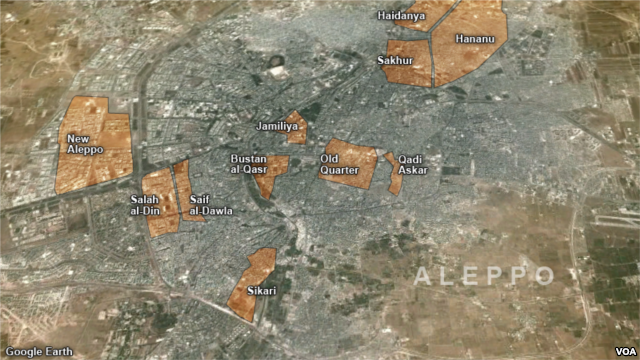 Despite the army's statement, activists said fighting was continuing in Salah al-Din on Sunday night.
Syrian Foreign Minister Walid Moualem, on a visit to Iran, said that the government was winning its war against the rebels.
"Today I tell you, Syria is stronger," he said.
"In less than a week they were defeated (in Damascus) and the battle failed. So they moved on to Aleppo and I assure you, their plots will fail."
BBC