Assad forces pound Aleppo, claim Damascus victory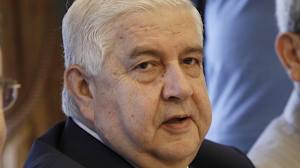 The government of Bashar al-Assad declared victory on Sunday in a hard-fought battle for Syria's capital Damascus, and pounded rebels who control of parts of its largest city Aleppo.
Assad's forces have struggled as never before to maintain their grip on the country over the past two weeks after a major rebel advance into the two largest cities and an explosion that killed four top security officials.
Government forces have succeeded in reimposing their grip the capital after a punishing battle, but rebels are still in control of sections of Aleppo, clashing with reinforced army troops for several days.
"Today I tell you, Syria is stronger… In less than a week they were defeated (in Damascus) and the battle failed," Foreign Minister Walid Moualem said on a visit to Iran, Assad's main ally in a region where other neighbors have forsaken him.
"So they moved on to Aleppo and I assure you, their plots will fail."
Rebel fighters, patrolling opposition districts in flat-bed trucks flying green-white-and-black "independence" flags, said they were holding off Assad's forces in the south-western Aleppo district of Salaheddine, where clashes have gone on for days.
Opposition activists also reported fighting in other rebel-held districts of Aleppo, in what could herald the start of a decisive phase in the battle for Syria's commercial hub, after the army sent tank columns and troop reinforcements last week.
Helicopter gunships hovered over the city shortly after dawn and the thud of artillery boomed across neighborhoods. Syrian state television said soldiers was repelling "terrorists" in Salaheddine and had captured several of their leaders.
Some rebel-held areas visited by Reuters were empty of residents. Fighters were basing themselves in houses – some clearly abandoned in a hurry, with food still in the fridges.
A burnt out tank lay in the street, while nearby another one had been captured intact, covered in tarpaulin and left in a car park, perhaps for the rebels themselves to use against any ground assault by Assad's forces.
In a largely empty street, flanked by closed shops and run-down buildings, women clad in long black abaya cloaks walked with children next to walls daubed with rebel graffiti – "Freedom", "Free Syrian Army" and "Down with Bashar".
Rubbish lay uncollected and in one street families were packing vans full of mattresses in apparent preparation to flee.
KILLING MACHINE
The leader of Syria's main political opposition group, the Syrian National Council, called for foreign allies to provide heavy weapons to fight Assad's "killing machine".
"The rebels are fighting with primitive weapons…We want weapons that we can stop tanks and planes with. This is what we want," SNC chief Abdelbasset Seida said in Abu Dhabi.
He also urged foreign allies to circumvent the divided U.N. Security Council and intervene to help topple Assad.
"Our friends and allies will bear responsibility for what is happening in Aleppo if they do not move soon," he said, adding that talks would start on forming a transitional government.
Arab League head Nabil Elaraby said the battle in Aleppo amounted to "war crimes", and perpetrators would eventually be punished, Egypt's MENA state news agency reported.
The Arab League has suspended Syria and lined up with the West and Turkey against Assad. Assad's government blames Arab states, especially Saudi Arabia and Qatar, for the revolt.
Assad's ruling structure draws strongly on his Alawite minority sect, an offshoot of Shi'ite Islam, while his opposition is drawn largely from the Sunni Muslim majority, backed by Sunni leaders who rule nearly all other Arab states.
That has raised fears that the 16-month-old conflict could spread across the wider Middle East, where a sectarian divide between Sunnis and Shi'ites has been at the root of violence in Iraq, Lebanon, Bahrain and elsewhere.
Shi'ite Iran demonstrated its firm support for Assad by hosting his foreign minister. At a joint news conference with Moualem, Iran's own Foreign Minister Ali Akbar Salehi rebuked the West and Arab states for holding the "illusion" that Assad could be easily replaced from power in a managed transition.
CRUCIAL TEST
In Damascus, where Assad's forces pushed back a rebel offensive following a deadly bomb attack on his inner circle, many residents have fled fighting in the outskirts for relative safety in the heart of the capital.
Even the center has been shattered by the violence. Shops open only between 9 am and 3 pm, food prices have soared and no one dares walk outside after dusk, even in the holy month of Ramadan when streets are normally packed late into the night with people celebrating after a day of fasting.
"To begin with I was with the regime, for sure," said Ahmed, from one of the southern suburbs where the army, backed by helicopter and tanks, launched its fierce counter offensive.
"But now, no, the regime must go. Take what they want with them, but they must go."
The battle for Aleppo, a city of 2.5 million people, is a decisive test of the government's ability to retake its two main cities. It has committed huge military resources to the battle there after losing control of outlying rural areas and some border crossings with Turkey and Iraq.
Fighters from the rebel Free Syrian Army were also in evidence on the approaches to Aleppo from the north, where many villagers were still shopping or tending their fields.
One man in his 40s, carrying his family on a motorcycle, said he was fleeing the fighting in the city.
"We are living in a war zone," he told Reuters. "I and my relatives are just going back and forth, trying to stay away from the fighting. We left Aleppo when we saw smoke and helicopters firing."
The British-based Observatory, which compiles reports from anti-government activists, said 26 people were killed in Aleppo on Saturday and 190 total across Syria. It reported fighting in Deraa, the cradle of the revolution, Homs, the scene of some of the bloodiest combat, and Hama. There was no way to verify its figures.
The fighting in Aleppo follows a July 18 bomb attack that killed four top security officials including Assad's defense minister, intelligence chief and powerful brother-in-law.
Reuters