Jumblatt calls for eliminating Assad, arming Syria rebels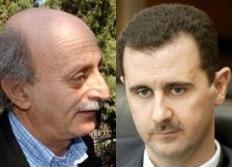 Progressive Socialist Party leader MP Walid Jumblatt called for the eliminating Syrian President Bashar Assad and the arming of the rebels.
"Since Assad is still strong and his army is strong, he is not going to leave power. Therefore he should be eliminated, nothing less or more than that," Jumblatt said.
In an interview with the radio station France Info, Jumblatt said that short of Assad being killed, he should be exiled to Siberia in Russia or the Iranian desert.
On arming the rebels he said
"I call for providing the Syrian people with arms and equipment to enable them to resist and shoot down the helicopters and warplanes that Assad is using against the towns and the whole population."
More than 19,000 people, mostly civilians, have died in violence unleashed by Assad's forces in its attempt to crush the uprising that started in March 2011, according to the Britain-based Syrian Observatory for Human Rights .
Now Lebanon, Daily Star