Battle for Syria's Commercial Center Intensifies
The Syrian military intensified its offensive on the country's commercial center of Aleppo Saturday, pounding rebel-controlled areas with tanks and helicopter gunships.
Activists posted video on YouTube of the sound of shelling and gunfire and columns of black smoke rising over buildings in the Aleppo neighborhood of Salaheddin on Saturday.
Rami Abd al-Rahman, the Director of the Britain-based Syrian Observatory for Human Rights told VOA by telephone that fighting intensified early in the morning.
He says there was gunfire and bombardments by the military, while residents reported that army tanks clashed with opposition fighters in the adjoining neighborhoods of Hamdariyya and Salaheddin. They also reported helicopters over the city.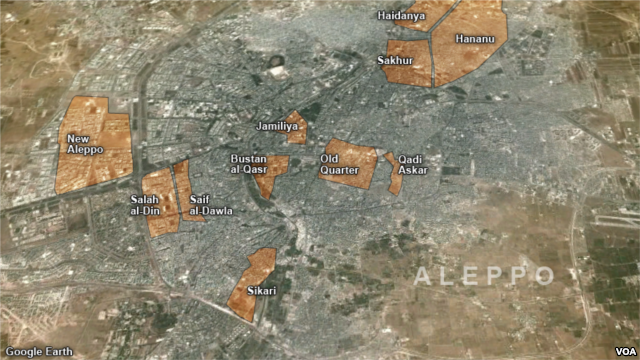 Al-Rahman says it is the first time tanks have shelled this area.
He said the fighting was very intense in Aleppo for several hours and there are dozens of dead and injured.
Pro-government media in Syria have warned that what they describe as the "mother of all battles" looms in the city of nearly three million residents. The United States, Britain and the United Nations have voiced growing alarm about the potential for an imminent massacre there.
Meanwhile, here in Lebanon, local media reported that the army put down clashes in the northern city of Tripoli overnight between rival Alawite and Sunni neighborhoods in which several people were injured, adding to fears that Syria's conflict could spill over its borders.
VOA