Syrian troops, rebels reinforce for big Aleppo battle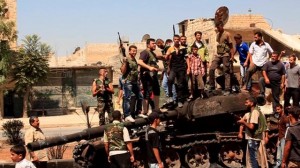 Syrian rebels have stepped up their stockpiling of ammunition and medical supplies in preparation for a major battle in Aleppo, a BBC reporter says.
The rebels, who are in control of large parts of Syria's second city, have set up checkpoints and sniper positions.
Activists say columns of government troops and tanks are heading towards the city from other areas.
Aleppo is the country's commercial capital, and is key to the battle to control the north of the country.
Street battles have been reported throughout Aleppo for almost a week, as rebels try to hold on to seized neighbourhoods.
The BBC's Ian Pannell near the city says thousands of people are leaving as fears grow that an intense battle is looming.
He says the rebels are reinforcing their ranks with more fighters, medical supplies, and ammunition such as Kalashnikov rifles.
But restive neighbourhoods have been pounded by artillery, mortars and helicopter gunfire from government forces in recent days.
And troops and tanks were reported to be heading to Aleppo from the city of Hama, and from the border posts with Turkey in Idlib province.
Activists say it is unlikely that the rebels will be able to hold on to the territory that they have gained if faced with a full assault from regime forces.
"They lack the strategic support and weaponry," said Talal al-Mayhani, an activist with connections in the rebel movement in Aleppo.
He said the battle for Aleppo was likely to play out in a similar way to an earlier battle in the capital Damascus, when rebels took control of large parts of the city before being forced to withdraw in the face of a government offensive.
Adrien Jaulmes, from the French newspaper Le Figaro, was travelling with the rebels around Aleppo on Wednesday and said they appeared to control about half of the city at most.
He said the rebels expected to be outgunned by the army, and intended to use guerrilla tactics when government reinforcements arrived.
BBC