Obama: Putin agrees to work U.S. on Syria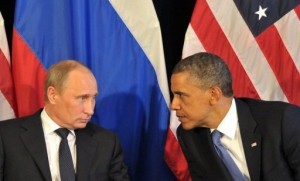 Russian President Vladimir Putin agreed Wednesday in a phone call with President Barack Obama to work with the United States to find a solution to the crisis in Syria, the White House said.
But the Kremlin stressed that "differences" remain ahead of a UN Security Council vote in which Russia is expected to veto a Western-drafted resolution calling for sanctions against Syrian President Bashar al-Assad.
Putin and Obama spoke after a bomb attack Wednesday killed at least three members of Assad's inner circle, upping the stakes of Thursday's vote as predictions rained in that Syria was spinning out of control into chaos.
"The two presidents noted the growing violence in Syria and agreed on the need to support a political transition as soon as possible that achieves our shared goal of ending the violence and avoiding a further deterioration of the situation," the White House said.
"They noted the differences our governments have had on Syria, but agreed to have their teams continue to work toward a solution."
Russia has proposed its own draft UN resolution that does not provide for punitive measures against its Soviet-era ally Damascus while extending a current UN monitoring mission there by another three months.
Western powers have refused to back Russia's initial proposal or an amended version submitted by Moscow at the United Nations on Tuesday.
"Differences in approaches remain that concern practical steps in achieving a settlement," Kremlin spokesman Dmitry Peskov was quoted as saying by Russian news agencies after the Putin-Obama call.
The Kremlin spokesman provided few details of the phone call except to say that it was initiated by Obama and included a "detailed discussion of Syria in which the recent escalation was noted."
Peskov said the conversation showed that the two leaders "have a coinciding view of the general situation in Syria (and agree) on the end goal of reaching a settlement."
But the spokesman made no mention of Russia's refusal to back firmer action against Assad or of Obama's insistence of imposing sanctions against his regime should it fail to comply with the most urgent points of a peace plan drafted by international mediator Kofi Annan.
"President Obama also took the opportunity to express condolences on the tragic loss of life resulting from flooding in southern Russia earlier this month and reiterated the US readiness to provide assistance if needed," the White House statement said
AFP