UN to vote on new Syria resolution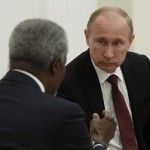 Russia remained at loggerheads with the US and its European allies ahead of a United Nations Security Council vote tonight on a new Syria resolution.
There appeared to be little hope that the UN's most powerful body would unite behind a plan to end the 17-month civil war.
The key stumbling block is the Western demand for a resolution threatening non-military sanctions and tied to Chapter 7 of the United Nations Charter, which could eventually allow the use of force to end the conflict in Syria.
Russia is adamantly opposed to any mention of sanctions or Chapter 7.
After security council consultations on Tuesday night on a revised draft resolution pushed by Moscow, Russia's deputy UN ambassador Alexander Pankin said those remained "red lines".
Russia has said it will veto any Chapter 7 resolution, but council diplomats said there was still a possibility of last-minute negotiations.
There has been a lot of diplomatic scrambling to try to get council unity, which would send a much stronger signal to Syria. International envoy Kofi Annan has been in Russia for two days of top-level meetings, including talks with President Vladimir Putin on Tuesday.
Mr Annan told reporters in Moscow that he and Mr Putin focused on "what measures need to be taken to end the violence and the killing and how we move on to the political transition" and he urged the council to try to find language "that will pull everybody together for us to move forward on this critical issue".
The mandate of the 300-strong UN observer force in Syria expires on Friday and the security council must decide by then whether to extend it.
In New York, Syria's main opposition group urged Russia to support the Western resolution, saying it was the last chance "to breathe life" into the peace plan. Bassma Kodmani, a Syrian National Council spokeswoman, said if the security council failed to act, Syria's opposition would consider other options – which she did not disclose – to protect the Syrian people. "These are under consideration at the moment with friends of Syria" in the region and internationally, she said.
The Press Association