2 of the 11 Lebanese hostages will be freed by captors, report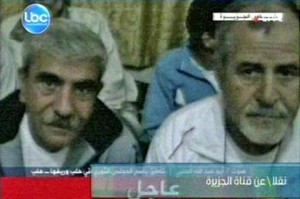 Two of 11 Lebanese kidnapped in Syria in May of this year will be set free, their captors said in a statement carried by Al-Jazeera television Tuesday.
"In response to the calls by the committee of Muslim scholars in Lebanon we will release two of our guests to their families under the auspices of the committee … and the state of Qatar," the statement, the third to be carried by the Doha-based channel, said.
The 11 men were kidnapped in the northern Syrian province of Aleppo on May 22 while on their way back from a pilgrimage in Iran.
The statement from the captors comes on the same day that President Michel Suleiman held talks with officials in Ankara on the issue of the 11 pilgrims.
Local newspapers said Tuesday that Suleiman would likely seek to win the release of the hostages before the start of the Muslim holy month of Ramadan, which begins Friday.
The kidnappers reiterated their demand that Hezbollah leader Sayyed Hasan Nasrallah to apologize for his support for Syrian President Bashar Assad.
Most Syrian opposition factions have distanced themselves from the abduction. A previously unknown group calling itself "Syrian Rebels in Aleppo" has claimed responsibility.
In their statement, the captors said they held no enmity toward any sect in Lebanon but only objected to a speech by Hezbollah Secretary-General Sayyed Hasan Nasrallah, "who justified the acts of Syrian President Bashar Assad and claiming that what was happening in Syria was just media fabrications."
Daily Star