Syrian security arrests tens in Rustom Ghazaleh's village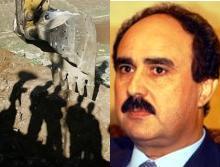 Al Arabiya reported that Syrian security forces loyal to president Bashar al Assad arrested tens in Rustom Ghazaleh's village.
This report comes after Syrian National Council member Ahmad Ramadan told MTV on Monday: " Rustom Ghazaleh tried to contact the opposition about two months ago with aim of defecting and moving to Paris via Jordan, but he later changed his mind"
There were unconfirmed reports today that Ghazaleh's family moved to Jordan.
About Ghazaleh
Born in 1953, Ghazaleh was appointed by Syrian President Bashar al-Assad in 2002 to succeed Gen. Ghazi Kanaan as head of Syrian military intelligence in Lebanon. He frequently traveled to the Bekaa valley where he had a residence and his headquarters in Anjar, and has been accused of involvement in the Bekaa drug trade and other smuggling ventures.
In early 2005, the killing of former Lebanese PM Rafik al-Hariri led to intense pressure on Syria. Ghazaleh's and Kanaan's foreign assets were frozen by the United States for their role in the alleged occupation of Lebanon and other suspected irregularities. Syria eventually withdrew its 15,000 man strong army. Ghazaleh relocated to Syria. However, some Lebanese and foreign observers allege that Syria keeps interfering with Lebanese politics through parts of its intelligence apparatus left behind in the country; Syria denies the charges. Kanaan later committed suicide.
In May 2011, the EU said Gen Ghazaleh was head of Military Intelligence in Damascus Countryside (Rif Dimashq) governorate, which borders Deraa governorate, and was involved in the repression of dissent in the region. He is considered part of Assad's inner circle.
Update: Rustom Ghazaleh denied that his family and relatives have taken refuge in Syria. earlier today Al Arabiya reported that Ghazaleh's relatives including his wife left Syria for Jordan