Over 100,000 Defected from Syrian army , report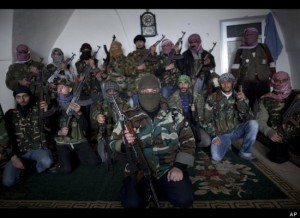 According to a report by AL Monitor Over 100,000 Defected from Syrian army and joined the Free Syrian Army . This was confirmed by a defected Syrian officer who was the former director of the Syrian Special Forces Operations Bureau under the command of Syria's Air Force Intelligence.
Afak Ahmad confirmhttps://yalibnan.com/wp-admin/media-upload.php?post_id=42121&TB_iframe=1&width=640&height=473ed the defections in interview with al Hayat newspaper in Jordan. He spoke about the Air Force Intelligence role in the violence that has rocked Syria's cities in the past year and a half. Ahmad, the first Alawite officer to defect, mentioned that Jordan has recently played host to 10 defected air force pilots.
Ahmad told the paper: "The facts on the ground in Syria favor the Free Syrian Army … Defections are now occurring more often than at any time before, especially among high-ranking officers."
Ahmad said that a number of army officers are ready to defect at any time , adding that the army currently controls only two-thirds of Syria's territory.
He told the paper that he decided to defect from the Syrian army after one of his fellow security officers went home to the governorate of Homs and was surprised to see that his house was bombed and that four of his cousins had died.
He confirmed that the number of defected officers, non-commissioned officers, and members from the police force, army, customs and general security exceeded 100,000 people. This is out of the 450,000 total personnel from all of the security agencies under the command of the Ministry of Defense.
Ahmad revealed that the number of shabbiha (informal, pro-government militiamen) exceeded 25,000. They reportedly come from different communities and receive a monthly salary of up to $500.
According to the AL Monitor report Ahmad placed the blame for killings and massacres — including the ones that took place in prisons and detention centers — on the Air Force Intelligence branch. He spoke about the shocking way the soldiers and officers treated dead bodies during the protests, adding that the martyrs were beaten and humiliated when they were transported in the soldiers' trucks.
He reportedly saw with his own eyes around 120 bodies being hysterically beaten and insulted. He accused the regime of dragging the Alawite community into sectarian war against the Sunnis and the rest of the Syrian people using rhetoric like "The Salafists want to attack the Alawites and rape their women!" as a pretext. He revealed that many Alawites have been recently protesting and demanding the fall of the regime
AL Monitor