Syrian opposition group: Death toll tops 17,000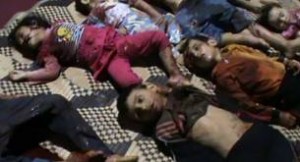 Beirut, Lebanon -An opposition group that documents human rights violations in Syria says more than 17,000 people have been killed since the uprising against President Bashar Assad began in March 2011.
The violence has grown increasingly chaotic in recent months, and it is difficult to assign blame for much of the bloodshed as the country spirals toward civil war.
The government restricts journalists from moving freely, making it impossible to independently verify death tolls.
The Britain-based Syrian Observatory for Human Rights said Monday that among the 17,129 deaths are 11,897 civilians, 4,348 soldiers and 884 military defectors.
The group has a network of activists on the ground who document deaths and rights violations through eyewitness, accounts, hospitals and video footage.
Another group, the Local Coordination Committees, says 14,841 civilians have been killed.
Associated Press