Siniora: Is Mikati waiting for all March 14 leaders to be slain?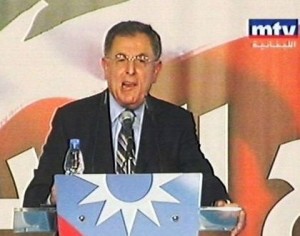 former Lebanese PM and current Future Movement parliamentary bloc leader MP Fouad Siniora said on Saturday that "the cabinet refuses to deliver the necessary telecommunication data for security forces to investigate assassination attempts" against March 14 leaders.
"The assassins were very close to killing Lebanese Forces leader Samir Geagea and March 14 MP Boutros Harb, while the cabinet has not yet delivered the telecommunication data to the security forces, although it is the only way to identify the assailants," Siniora said during an anti-cabinet festival held in Saida.
"Is [Prime Minister Najib] Mikati waiting for all March 14 figures to be slain before he takes the initiative and delivers the data?" Siniora asked.
He also said that concealing telecom data "is [tantamount] to killing all those who are against [non-state] weapons, the party of weapons, [in a reference to Hezbollah], and the cabinet."
On Thursday, Harb was targeted by an apparent assassination bid after an "intruder" wielding a knife was apprehended by security guards in the MP's office while two detonators were found in the building.
Geagea escaped an assassination bid when snipers targeted him outside his Maarab residence in the district of Kesrouan, but failed to hit him.
Now Lebanon