Libyans started voting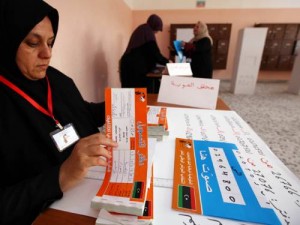 TRIPOLI, Libya — Libyans started voting on Saturday in the first parliamentary election since the ouster and slaying last year of longtime dictator Moammar Gadhafi, a major step forward on the tumultuous transition to democratic government after more than four decades of authoritarian rule.
The election for a 200-seat legislature was being held amid intense regional rivalries, fears of violence and calls for a boycott. However, lines began to form outside polling centers more than an hour before they were scheduled to open in the capital Tripoli. Policemen and army soldiers were guarding the centers, searching voters as well as election workers.
Libya's election is the latest fruit of Arab Spring revolts against authoritarian leaders. It is likely to be dominated by Islamist parties of all shades, a similar outcome to elections held in the country's neighbors Egypt and Tunisia, which had had their own, though much less bloody, uprisings.
In the oil-rich east, where there is a thriving autonomy movement, calls for a boycott and pre-election violence have cast a shadow over the vote. But in Tripoli, voters were jubilant.
Libyans flashed the "V" for victory sign as they entered the polling centers. Motorists honked their horns as they drove past to greet the voters lined outside. Others shouted "Allahu Akbar," or "God is Greater," from their car windows.
The election lines brought together Libya's women, men, youth and children accompanying their parents. There were women in black abayas, or black robes, bearded men, elderly men and women on wheelchairs or using canes to support themselves. Some voters arrived at polling centers with the Libyan red, green and black flags wrapped around their shoulders.
"Look at the lines. Everyone came of his and her own free will. I knew that day would come and Gadhafi would not be there forever," said Riyadh Al-Alagy, a 50-year-old civil servant in Tripoli. "He left us a nation with a distorted mind, a police state with no institutions. We want to start from zero," he said, as a woman came out of the polling center ululating and flashing the purple ink on one of her fingers. The ink is used to prevent multiple voting.
Saturday's vote is a key milestone on a nine-month transition toward democracy for the country after a bitter civil war that ended with the capture and killing of Gadhafi in October. Many Libyans had hoped the oil-rich nation of 6 million would quickly thrive and become a magnet for investment, but the country has suffered a virtual collapse in authority that has left formidable challenges. Armed militias still operate independently, and deepening regional and tribal divisions erupt into violence with alarming frequency.
On the eve of the vote, gunmen shot down a helicopter carrying polling materials near the eastern city of Benghazi, the birthplace of the revolution, killing one election worker, said Saleh Darhoub, a spokesman for the ruling National Transitional Council. The crew survived after a crash landing.
Prime Minister Abdurrahim el-Keib vowed the government would ensure a safe vote Saturday, and condemned the election worker's killing and those who seek to derail the vote.
It was not immediately clear who was behind Friday's shooting, but it was the latest unrest in a messy run-up to the vote that has put a spotlight on some of the major fault lines in the country — the east-west divide, the Islamist versus secularist political struggle.
Many in Libya's oil-rich east feel slighted by the election laws issued by the National Transitional Council, the body that led the rebel cause during the civil war. The laws allocate the east less than a third of the parliamentary seats, with the rest going to the western region that includes Tripoli and the sparsely-settled desert south.
Facts about Libya's nationwide elections
Facts about Libya's Saturday election for a 200-member General National Congress, the first nationwide vote since the ouster of Moammar Gadhafi last year:
—Eligible voters: 3.3 million.
—Registered voters: Almost 2.9 million.
—Not eligible to vote: Officials from Gadhafi's regime.
—Polls open on Saturday from 8 a.m. to 8 p.m. local time (2 a.m. to 2 p.m. EDT; 0600 to 1800 GMT).
—Results expected within a week of voting.
—Allocation of seats: 100 for Tripoli and the west, 60 for Benghazi and the east, 40 for southwest.
—Candidates seeking election: About 3,700, including 585 women.
—Main contenders: Muslim Brotherhood (Islamists), Al-Watan (Salafis and other Islamists), Alliance of National Forces (secular), National Front (veteran opposition to Gadhafi), National Centrist (former Finance Minister Ali Tarhouni).
—Next steps: New Assembly appoints Cabinet within 30 days. A second election for a 60-member body to write a new constitution. Referendum on constitution. Election for new parliament in 2013.
The Associated Press