Syrian torture centers revealed, HRW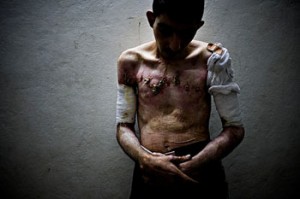 It is known as the Palestine Branch and its three underground floors provide a central location for the systematic program of torture and abuse meted out by an army of Syrian secret police and high-ranking intelligence officers.
Situated in the capital Damascus on Mutahaleq al-Janoubi, Branch 235 – or the Palestine Branch – is one of Syria's most feared prisons and one of the 27 torture sites that Human Rights Watch has mapped following interviews with more than 200 torture victims and defectors.
While most of those interviewed by the human rights group were young men aged between 18 and 35, the torture victims interviewed also included children, women, and the elderly. Each interviewee has indicated on satellite imagery the exact location of the prison in which they were held, then the location, facilities, staff, commanders and method of torture were verified by several torture victims and defectors.
HRW estimates that Syrian authorities have subjected tens of thousands of people to arbitrary arrests, unlawful detentions, enforced disappearances, ill-treatment and torture using this extensive network of prisons and torture centres.
In a detailed set of maps and command structures, the group has documented the exact location, agency, commander and type of torture used, using testimony corroborated by multiple witnesses, both victims and perpetrators.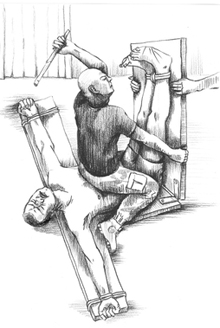 Spokesman Nadim Houry says, based on the evidence collected, the actual number of such facilities is likely much higher.
"We believe there is strong evidence that there is a state policy of torture and that it is widespread," Mr Houry says. "These security services represent a shadow parallel state that must be held to account."
A 31-year-old described how he was forced to undress before he was tortured over a three-day period in a detention centre in Idlib.
"They started squeezing my fingers with pliers. They put staples in my fingers, chest, and ears. I was only allowed to take them out if I spoke. The nails in the ears were the most painful. They used two wires hooked up to a car battery to give me electric shocks. They used electric stun-guns on my genitals twice. I thought I would never see my family again."
Branch 285 – also in Damascus – also prompts fear and dread among Syrians arrested by the security services.
Led by Brigadier General Ibrahim Ma'la (head of branch since late 2011) and Brigadier General Hussam Fendi (head of branch until late 2011), prisoners report being subject to electric shocks, sexual abuse and beatings in the centre's 17 interrogation rooms.
The defector who gave evidence on this prison estimated there might have been as many as 1500 detainees in Branch 285, while a prisoner testified that he was kept in a cell measuring about 25 square metres with 74 other detainees.
Torture methods included prolonged beatings, often with objects such as batons and wires, holding the detainees in painful stress positions for prolonged periods, the use of electricity, burning with sulphuric acid, sexual assault and humiliation, the pulling of fingernails and mock execution.
The country's four main intelligence agencies – collectively referred to as the mukhabarat – are in charge of the detention centres:
• Department of Military Intelligence (Shu 'bat al-Mukhabarat al-'Askariyya);
• Political Security Directorate (Idarat al-Amn al-Siyasi);
• General Intelligence Directorate (Idarat al-Mukhabarat al-'Amma); and
• Air Force Intelligence Directorate (Idarat al-Mukhabarat al-Jawiyya).
smh.com.au