Syria transition plan to raise more questions than it answered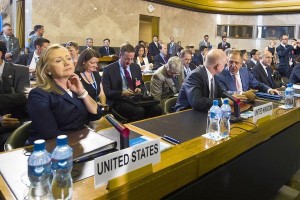 BEIRUT, Lebanon — The United States and other world powers meeting Saturday in Geneva threw their weight behind a United Nations-brokered plan for a transitional government for Syria, but the move appeared to raise more questions than it answered.
Chief among them: What about Syrian President Bashar Assad?
Russia has rejected the U.S. insistence that Assad go, and the new transitional plan doesn't appear to have resolved their fundamental disagreement.
Beyond the new proposal, the "action group" of nations vowed to launch a fresh diplomatic effort aimed at reviving a U.N.-brokered peace deal that is now in tatters. Why the cease-fire, troop pullbacks and other provisions of the 3-month-old peace deal should fall into place now after being ignored by both sides was unclear.
"I expect the Syrian parties to cooperate," said Kofi Annan, the U.N.-Arab League special envoy who negotiated the original peace plan. "I expect them to understand that the strong transformational wind which is blowing today cannot be resisted — at least it cannot be resisted for long — and that change has to come."
But crafting any kind of lasting accord in polarized, war-ravaged Syria will be a daunting task.
The armed opposition has balked at any dialogue with Assad, whom it regards as a murderer. And Assad calls the rebels "terrorists" who, he recently told an Iranian television interviewer, must be "annihilated."
Although Saturday's communique states that members of Assad's government may serve in the transitional administration, U.S. Secretary of State Hillary Rodham Clinton was unequivocal about the future of Syria's longtime leader.
"Assad will still have to go," Clinton assured reporters in Geneva after hours of sometimes testy talks in the ornate Palais des Nations complex. "He needs to hear loudly and clearly that his days are numbered."
Not so fast, responded Russian Foreign Minister Sergei Lavrov, who has long maneuvered to block any international action to oust Assad, Moscow's last major ally in the Arab world.
"We consider it to be of key importance that there is no attempt in the document to impose upon the Syrian side any kind of transitional process," Lavrov said.
The veteran Russian statesman spoke with the self-assurance of a seasoned diplomat who appeared to have outmaneuvered Clinton, his often-acerbic adversary on the intricate Syria file.
At any rate, the much-heralded transition "road map," as Clinton called it, is less a legal mandate than a somewhat vague set of "guidelines and principles to assist the Syrian parties," in the words of Annan, who called Saturday's meeting in an effort to prevent Syria from plunging into all-out civil war. It is up to the Syrians to decide how to put the transition guidelines into practice, Annan said.
The United States and its allies seem intent on ratcheting up the pressure on Assad by securing a U.N. Security Council imprimatur for the transition proviso. Under such a scenario, Clinton suggested, noncompliance by Assad could trigger penalties under the U.N. Charter's Chapter 7, which envisions sanctions or even military action if members see a threat to peace and security.
But Moscow may not go along. Russia, joined by China, has twice vetoed Security Council resolutions targeting Assad, and could do so again.
The Russians emerged victorious Saturday in a crucial battle of words. At Moscow's insistence, Washington agreed to the removal of draft language barring anyone from the proposed transitional government "whose continued presence and participation would undermine the credibility of the transition and jeopardize stability and reconciliation" in Syria.
The text was clearly tailored to exclude Assad, though he wasn't mentioned specifically. The Russians balked. The Americans blinked. The controversial wording was excised from the final communique.
But Clinton insisted that the wording dispute really didn't matter. She pointed to revised language requiring that Syrians give their "mutual consent" to anyone on the transition team.
"He [Assad] will never pass the 'mutual consent' test, given the blood on his hands," Clinton said.
The "blood on his hands" formulation, first raised by a journalist in the post-meeting news conference, struck a chord with Annan as well.
"I will doubt that the Syrians, who have fought so hard for their independence … will select people with blood on their hands to lead them," Annan said.
So did Annan agree that Assad should go? No, Annan said. That is up to the people of Syria.
Under Annan's plan, Syria's transitional "national unity" leadership would forge the way for elections, a new constitution and a representative government. But it's going to take some time, maybe a year for "real results," Annan conceded.
That sounds like an eternity in a war-ravaged country where, according to opposition activists, civilians were being killed last week at a rate of almost 100 a day. The delay seems certain to revive opposition charges that Assad is using negotiations to prolong his beleaguered regime.
Violence has escalated dramatically in recent weeks in Syria as armed rebels battle government forces loyal to Assad, whose family has ruled Syria in autocratic fashion for more than 40 years.
The rebellion began in March 2011 as a protest movement but has morphed into an armed uprising in towns and cities, including several restive suburbs of Damascus where heavy fighting has been reported in recent days. Reports Saturday indicated that government troops had largely retaken much of the city of Duma, outside the capital, where dozens have been reported killed in shelling and street battles.
The Assad government has fought back against the rebellion with artillery, tanks and infantry troops, causing numerous civilian deaths, according to human rights monitors. But the opposition has also been implicated in the killings of civilians and executions of prisoners in what a U.N.-commissioned report described as an increasingly sectarian conflict that could have "catastrophic" consequences if left unchecked.
Clinton seemed to second that sentiment Saturday.
"If Syria spirals further into civil war," she said, "not only will more civilians die, not only will more refugees stream across the borders, but instability will most certainly spill into neighboring states."
LA Times