Sheikh Assir refuses to end the protest in Saida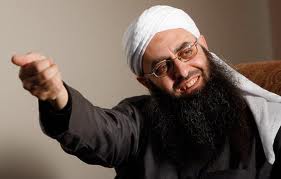 Salafist Sheikh Ahmad al-Assir, whose supporters have been since yesterday holding an open protest against non-state arms in the coastal city of Saida, said on Thursday that he will not end the protest.
"I was not convinced of ending the protest [as it] does not cause strife but [non-state] arms do," Assir told reporters following a meeting with Acting-Governor of South Lebanon Nicolas Bou Daher and Internal Security Forces commander in the South Tarek al-Abdullah.
Non-state arms or Resistance arms are terms used to describe the arsenal of the Iranian and Syrian backed Hezbollah militant group
Abdullah and Bou Daher were dispatched by Interior Minister Marwan Charbel earlier on Thursday to convince Assir to end the sit-in staged by the sheikh's supporters at Saida's eastern entrance.
Assir also told reporters that the sit-in was "peaceful" like Egypt's Tahrir Square protest, which toppled veteran strongman Hosni Mubarak last year.
"If we do not see a response to our demands [to end presence of non-state arms], we will escalate the protest. We are not dealing with [normal] people, but with [people] who consider themselves gods," the sheikh said in an implicit reference to Hezbollah.
"I swear we will not go home before we feel that [the matter of non-state] arms will be seriously addressed. The protest will peacefully resume until death. We cannot live without dignity and the Resistance's arms have deprived us of dignity," Assir added.
Now Lebanon