World powers to discuss Syria in Geneva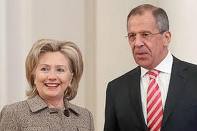 World powers are going to meet in Geneva on Saturday in an attempt to find ways of ending the violence in Syria, senior diplomats at the United Nations said.
U.S. Secretary of State Hillary Rodham Clinton and Russian Foreign Minister Sergey Lavrov will be joined by other top diplomats from the U.N. Security Council nations and possibly neighbors of Syria, the diplomats told The Associated Press on Wednesday.
The diplomats spoke on condition of anonymity because a formal announcement had not yet been made.
U.N. officials said they were preparing to send out invitations and expected to make an announcement later Wednesday.
Russia and the United States have both said they want to help U.N.-Arab League envoy Kofi Annan as he tries to revive a six-point peace plan for Syria. But Russia and China, two of the Security Council's five permanent members, have twice shielded Syria from U.N. sanctions over a crackdown on the uprising against President Bashar Assad's regime.
Separately, the U.N. Secretary-General Ban Ki-moon and a panel of U.N. human rights investigators headed by Brazilian professor and diplomat Paulo Sergio Pinheiro will report Wednesday to the U.N.'s Human Rights Council in Geneva
Annan's deputy, Jean-Marie Guehenno, who is a former U.N. peacekeeping chief, and U.N. High Commissioner for Human Rights Navi Pillay also were to address the U.N.'s top human rights body Wednesday.
Business Week