Activists: Syrian rebels clash with elite troops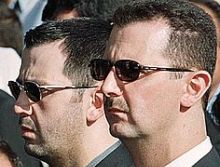 BEIRUT , Lebanon— Syria's elite Republican Guard forces clashed with rebels outside the capital Tuesday in some of the most intense fighting involving the special forces since an uprising against President Bashar Assad's regime began last year, activists said.
The clashes erupted near Republican Guard housing compounds and bases in the suburbs of Qudsaya and Hammah, about five miles (eight kilometers) from central Damascus, the Britain-based Syrian Observatory for Human Rights said. It said several people have been reported killed but gave no figures.
The job of the Republican Guard, which is commanded by Assad's younger brother Maher, is to protect the capital, the seat of the regime's power.
Although Damascus is under the firm control of Assad's forces, clashes erupt regularly in the suburbs between troops and rebels, but it is very rare for fighting to take place near the Republican Guard bases.
The Observatory and the Local Coordination Committees, another activist network, said troops stormed the Damascus neighborhood of Barzeh with armored personnel carriers, killing at least one person. Elsewhere in Syria, the LCC reported intense shelling in the eastern city of Deir el-Zour that wounded a number of people.
As Assad's crackdown on the uprising mutates into a civil war, fears are mounting that the violence could ignite regional unrest. Syrian activists say that more than 14,000 people have been killed since the crisis began in March 2011.
NATO's governing body is scheduled to meet Tuesday to discuss the shooting down of a Turkish military plane by Syria last week.
The group will likely condemn the shooting but refrain from responding to it militarily, officials and diplomats said.
Syria says the aircraft violated its airspace. But Turkey disagrees. According to Turkish officials, the plane had unintentionally strayed into Syrian airspace, but it was inside international airspace when it was brought down.
The jet's two missing crew members have not been found.
Turkey said Tuesday its military will respond to any future violation of its border by Syrian military elements. Prime Minister Recep Tayyip Erdogan said that Turkish Armed Forces "will respond to all violations on the Syrian border."
He said Syrian helicopters have violated Turkish airspace five times recently, without Turkish response.
Also Tuesday, Syria's state-run news agency said Syrian troops killed 10 "terrorists" in the Damascus suburb of Douma Monday night. The Syrian government refers to rebels as terrorists.
The Associated Press