Majority of Lebanese want Assad out: Poll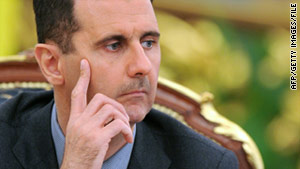 Over half of the Lebanese hold unfavorable views of Syrian President Bashar Assad and believe he should step down, according to results of a poll conducted by U.S.-based PEW Research Center released Thursday.
Fifty-three percent of Lebanese polled believe Assad should step down, and 59 percent hold unfavorable views of the president, according to the poll, but responses were divided along sectarian lines.
Of Lebanese Christians polled, 66 percent said they had negative views of Assad, with a similar number, 67 percent, saying he should step down.
Sunni Lebanese, at 92 percent, held negative views of Assad.
But only 3 percent of Shiite Lebanese polled said they wanted Assad to leave power, with just 4 percent holding negative views of him.
Of those who said they wished to see Assad leave office, there was little support for military intervention, although Arab military intervention was greatly preferred to Western military intervention, with 19 percent to 8 percent support respectively.
The Lebanese had the least appetite for military intervention among the countries polled, which were Jordan, Egypt, Tunisia and Turkey, although Tunisia was the only country which was in favor of military action, with around one-in-six supporting intervention by Arab states.
Twenty percent of Lebanese respondents said they supported more sanctions on Syria, again the lowest among the countries polled. Tunisia was again the only country, at 63 percent, in which a majority wanted to see sanctions.
The poll was conducted in Lebanon during 1,000 face-to-face interviews with adults across the country, excluding areas of Beirut which PEW said were "controlled by a militia group," and a few villages in south Lebanon bordering Israel.
It was conducted between March 19 and April 20, before the May 25 massacre in Houla, Syria.
Daily Star