Jumblatt slams cabinet's inaction over electricity issue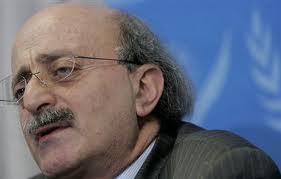 Progressive Socialist Party leader MP Walid Jumblatt slammed the cabinet for inaction in trying to benefit from the soft loans granted by the Arab Fund for Economic & Social Development and the Kuwait Fund for Arab Economic Development to resolve the electricity crisis.
"There is a political party that does not want to benefit from these loans for unknown reasons… we do not understand the reasons of this failure," Jumblatt told Al-Jumhuriya newspaper in remarks published on Friday.
The party he is reportedly referring to is the Free Patriotic Movement which is headed by MP Michel Aoun, a close ally of the Iranian and Syrian-backed Hezbollah militant group. Aoun's son-in-law Gebran Bassil is the energy minister
Jumblatt also said that it was time for the cabinet to bear its responsibilities instead of blaming others.
According to analysts Lebanon is witnessing the worst power blackouts ever . In Mount Lebanon areas which are classified as tourist resorts there are days where power is on for 3 to 4 hours a day and where blackouts can last as long as 12 hours in one stretch. This has reportedly outraged the tourists who are threatening to leave if the situation does not improve.
Many Lebanese citizens took to the streets to express their outrage over the power cuts. Several main roads were temporarily blocked with burning tires during the past days. Beirut's airport road was also affected by the protests.