Deadly standoff ends at Afghan hotel, hostages freed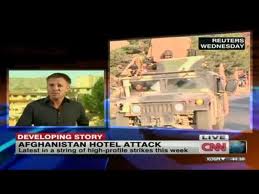 Taliban militants attacked a hotel near Kabul on Friday and seized dozens of hostages, sparking a fierce gunbattle with Afghan and NATO troops that left 26 people dead, authorities said.
The standoff, which lasted 11 hours, ended with the deaths of all seven militants, police said. The militants killed 15 civilians, a police officer and three security guards, Kabul police chief Ayoub Salangi said.
By the end of the siege, police had rescued all the remaining 50 civilians held hostage in the hotel, according to Salangi.
Earlier, he had said that there were five militants, but revised the number as more details emerged.
Police said they found burqas in the vehicle the attackers used to bring in explosives to the hotel, an indication that some were dressed as women. A burqa is an outer garment worn by Muslim women to cover their bodies.
Terrified civilians fled when the gunmen struck the Spozhmai hotel around midnight Thursday local time, with some jumping into a nearby lake to avoid the bloodshed. The hotel was hosting an outdoor dinner that drew a large number of guests when the attack occurred.
Afghan forces had moved slowly overnight to avoid civilian casualties.
"We did not take any action in the dark because of the risk to civilians," Salangi said.
There was no immediate indication of coalition forces casualties, NATO's International Security Assistance Force said.
The attack follows recent strikes aimed at coalition troops and Afghan security forces. Bombings in two eastern provinces Wednesday killed at least 29 people, including three American soldiers.
It also comes nearly a year after an insurgent attack on Kabul's Hotel Inter-Continental killed nine attackers and 12 others.
Taliban spokesman Zabiullah Mujahid said the hotel attack targeted Westerners.
Attackers are armed with suicide vests, rocket-propelled grenades and heavy machine guns, he said in an e-mail while the siege was under way.
"Every night people come here for different types of debauchery, but on Thursday night, the number increases, including foreigners who come here and they hold anti-Islamic ceremonies," Mujahid said. "Tonight, according to our information, a number of ISAF and embassy diplomats from foreign countries have been invited by some senior Kabul administration officials and are now under attack."
He said the Taliban fought government forces outside the hotel and had killed tens of government officials and foreigners, but the insurgents regularly inflate casualty figures.
The Taliban, an Islamic fundamentalist militia, once ruled most of the country.
CNN