Obama, Putin offered no new solutions for Syria crisis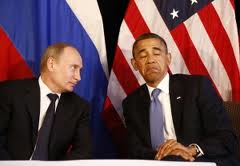 President Barack Obama and Russian President Vladimir Putin agreed on Monday that the violence in Syria has to end but they offered no new solutions and showed no signs of healing a rift over whether to impose tougher sanctions on Damascus.
With the bloodshed in Syria getting worse and after a week of Cold War-style recriminations between U.S. and Russian diplomats, the talks at a Group of 20 summit in Mexico tested whether Obama and Putin could forge a working relationship.
But the two leaders appeared to share little common ground on the fate of Syrian President Bashar al-Assad, and their mostly chilly personal encounter suggested a less-than-promising start.
It was their first meeting since Putin's return to the presidency last month, and the two leaders sought to paper over disputes on arming Damascus and the prospects for further U.N. action.
"We agreed that we need to see a cessation of the violence, that a political process has to be created to prevent civil war," Obama told reporters after the talks, which went on for some two hours – longer than originally planned.
"From my point of view, we have found many common points on this issue (of Syria)," Putin said, adding the two sides would continue discussions.
The talks came as Syrian security forces pounded opposition areas across the country. Intense artillery fire was reported in Douma, a town 15 km (9 miles) outside the Syrian capital that for weeks has been under the partial control of rebels who have joined the revolt against Assad.
U.S. and Russian officials described the meeting here as positive and business-like but the demeanor of both leaders was cool and detached.
It was a personal dynamic that contrasted sharply with the chumminess that Putin and Obama's predecessor, George W. Bush – dubbed "The George and Vladimir Show" by the media – used to show in their meetings.
As journalists entered the cramped hotel ballroom, the two leaders were leaning toward each other in discussion, neither smiling. Obama initiated a handshake for the cameras while both he and Putin remained seated.
Obama sometimes gestured toward Putin as he spoke but Putin sat more stiffly through the joint appearance. At the end of their statements, as reporters were being ushered out, both sat glumly watching but made no move to re-engage with each other.
The hardened tone appears to mark the endpoint of Obama's "reset" of ties with Russia, pursued with Putin's predecessor, Dmitry Medvedev, with whom Obama shared a strong rapport.
SYRIA CLASH
With Assad continuing his bloody, 15-month assault on the opposition, Obama and Western allies want Moscow to stop using its veto to shield him from further U.N. Security Council sanctions aimed at forcing him from power.
Putin, a former KGB spymaster, is suspicious of U.S. motives, especially after the NATO-assisted ouster of Libyan leader Muammar Gaddafi last year, and he has offered little sign of softening his stance on Syria.
Though Washington has shown no appetite for a new Libya-style intervention, Russia is reluctant to abandon its Syrian ally, a longtime arms customer, and risk losing its last firm foothold in the Middle East, including access to a warm-water navy base.
Diplomatic efforts have been further complicated by Obama's re-election battle against Republican Mitt Romney – who has called Russia "our number one geopolitical foe."
Obama was under pressure to avoid giving Republicans an opening to accuse him of being soft on Moscow at a time when he is already struggling to defend his record on the economy. At the same time, he faces criticism for not providing stronger leadership on Syria.
For his part, Putin was in no mood for concessions that could be seen as weakness as he seeks to quell dissent at home with tactics that have drawn U.S. criticism. He was also thought to be wary of making commitments to an American president whose future remains uncertain beyond the November 6 election.
Obama and Putin discussed Syria longer than any other topic – at least a third of their meeting, according to U.S. ambassador to Russia Michael McFaul.
Aides said Obama and Putin found some common ground.
"The sides reiterated their support for Kofi Annan's plan and the need to work to push this plan forward," said Putin's spokesman, Dmitry Peskov.
"The discussion about political process for the Russians is not just to focus on this one event, whether Assad goes and when he goes," McFaul, the U.S. ambassador, told reporters. "They want to have a bigger discussion about it. They want to say: Well, what happens the day after?"
Suspension of the U.N. monitoring mission in Syria over the weekend put added pressure on Obama and Putin to act decisively to keep the conflict from spiraling into civil war.
The rift between the two sides intensified last week when Secretary of State Hillary Clinton accused Russia of supplying Assad with attack helicopters.
"Russia does not sell helicopters to Syria, Russia is repairing helicopters sold (a) long time ago," Peskov said. "Vladimir Putin always believed that state officials should use reliable sources of information."
IRAN, VISITS
The meeting between Obama and Putin also touched on missile defense, arms reduction, and trade.
Obama said the two leaders agreed on the need for a diplomatic solution to Iran's nuclear standoff with the West.
"We agreed that there's still time and space to resolve diplomatically the issue of Iran's potential development of nuclear weapons, as well as its interest in developing peaceful nuclear power," he said.
Despite the presidents' stiff interaction during their encounter, Obama ended the appearance on a courteous note.
"Mr. President, I look forward to visiting Russia again, and I look forward to hosting you in the United States," he said.
Putin did not attend a G8 summit hosted by Obama at his presidential retreat at Camp David last month. The meeting between the two men was rescheduled to neutral ground in Mexico.
"I invite you to visit Moscow," Putin said.
Reuters