Lebanon diesel import leap points to Syria smuggling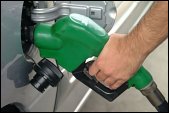 Lebanon's private sector imports of diesel jumped in April and May, data obtained by Reuters shows, and industry analysts say Lebanese factions are smuggling the fuel into Syria where supplies are desperately tight due to Western sanctions.
The data shows a three-fold increase since last year to 106,000 tonnes in April, more than can easily be explained by any rise in domestic consumption.
"The latest figures show a huge jump in imports of diesel in Lebanon. Countries don't just double their imports overnight," said a Syrian oil industry employee, who asked not to be named to protect his family in Aleppo.
The source named Shi'ite organization Hezbollah, which supports Syrian President Bashar al-Assad who is battling a largely Sunni Muslim uprising, as playing a major role, although analysts said smuggling involved various groups in Lebanon and did not just supply the government side.
"That fuel is being smuggled into Syria by Hezbollah, which is allowing this activity to continue," the Syrian worker said.
A Hezbollah official denied the movement was sending fuel to Syria.
The list obtained by Reuters of diesel shipments imported by private buyers in Lebanon showed deliveries rose to more than 106,000 tonnes in April, from 33,000 tonnes a year earlier.
The increase in private imports has continued into May, with Lebanese diesel imports remaining around twice as high as the previous year, at around 51,000 tonnes.
The figures exclude purchases by Lebanon's energy ministry, which buys gasoil, including diesel, for power stations and other sectors.
NO SMUGGLING TO SYRIA, OFFICIAL SAYS
Lebanon's energy officials deny that imports have increased substantially, or that diesel is crossing the border to Syria.
"There is no smuggling to Syria, I do not know where do you get this information from but it is all false," said Sarkis Helais, director general of oil facilities in Lebanon, adding that official ministry purchases rise slightly every year, in line with demand.
Analysts see a risk the smuggling of diesel – needed by Assad's armored vehicles as well as by industry and farmers – could be a small but significant factor in undermining efforts to quarantine Lebanon from the Syrian fighting.
Lebanon's Prime Minister Najib Mikati, a Sunni Muslim who is backed by Hezbollah and its political allies, has sought to contain sectarian tensions stirred by the uprising against Assad.
But his policy of 'dissociation' from the turmoil in Syria was shaken by clashes in the northern city of Tripoli two weeks ago in which 15 people were killed. Gunfights also broke out on the streets of the capital Beirut.
The battles were triggered by the arrest of an anti-Assad activist and the shooting of a Sunni Muslim cleric at a checkpoint. Mikati's opponents have not made any accusations against parties in his government, including Hezbollah, about fuel shipments to Syria, but any indication of involvement could increase the existing tensions.
Middle East security analyst David Hartwell, at IHS Jane, said smuggling was going on. "These borders exist in name and map only and exchanges between Lebanese and Syrians take place on a daily basis. There is very little to deter smuggling and it already is destabilizing Lebanon."
"The (Lebanese) government will back the military to stop this from happening although the prospect of more clashes is very likely."
Syria has faced shortages of diesel since tighter sanctions introduced by the European Union at the end of March forced its usual suppliers to stop bringing shipments from Russia.
Although Syria produces and refines oil, it lacks the means to produce diesel.
Eurasia Group analyst Ayham Kamel said Lebanon may be needing more diesel for power generation there.
"Part of the issue is that Lebanon has had electricity shortages," he said. "However there definitely is smuggling over the border to Syria, in a reversal of a historic trend in which diesel was smuggled into Lebanon."
The European Union embargo also stopped Syria from importing liquefied petroleum gas (LPG) that is used for cooking and heating fuel.
The shipping records obtained also show Lebanese imports of LPG tripled in April compared to the previous year.
Syrian officials blame the EU for shortages, saying last month not a single shipment had been received since the embargo on its oil was widened to include petroleum products.
The only delivery of diesel to have reached Syria since, according to local shipping agents, was sent by Venezuela at the end of May.
Syrian officials say they are negotiating fresh supplies from Algeria and Iran, and two Iranian vessels are heading for Syrian ports, expected to deliver fuel.
Reuters