U.N. suspends observer mission in Syria due to violence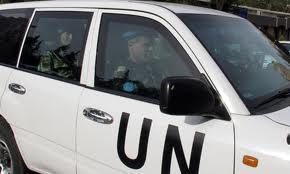 The United Nations on Saturday suspended its monitoring mission in Syria due to intensifying violence, sending a strong indication that prospects for peace are failing.
"There has been an intensification of armed violence across Syria over the past 10 days," said Gen. Robert Mood, who heads the U.N. Supervision Mission in Syria.
"This escalation is limiting our ability to observe, verify, report as well as assist in local dialogue and stability projects — basically impeding our ability to carry out our mandate."
The situation, Mood said, was too high risk for the unarmed monitors.
He criticized "the lack of willingness by the parties to seek a peaceful transition," creating an environment that has led to more deaths among troops and rebel fighters but also "innocent civilians, men, women and children."
The Obama administration said Syria had reached a "critical juncture" and again urged President Bashar al-Assad to uphold its commitment to the six-point peace plan brokered by special envoy Kofi Annan.
Tommy Vietor, a spokesman for the National Security Council, said the United States is now working with allies "regarding next steps toward a Syrian-led political transition" without al-Assad.
"The sooner this transition takes place, the greater the chance of averting a lengthy and bloody sectarian civil war," he said.
Syria's government, however, remains steadfast and its foreign ministry on Saturday blamed the uptick in violence — and the related decision to suspend the U.N. mission — on "armed terrorist groups."
"The armed groups also disregarded Annan's plan and the initial agreement between the United Nations and the Syrian government, aided by Arab and international powers that are still providing the terrorists with up-to-date weapons and communication devices that help them in committing their crimes and sticking to their defiance of the U.N. plan," the ministry said, according to the state-run Syrian Arab News Agency.
Syrian opposition groups estimate that between 12,000 and 14,000 people have died since al-Assad's government began cracking down on anti-government activists last year.
There was a slow-down in killings when a cease-fire brokered by Annan was set to take hold April 12.
The U.N. monitors, whose numbers gradually rose to about 300, were sent in to ensure that both government and opposition fighters were abiding by the cease-fire and other elements of Annan's peace plan.
But the pace picked up again, and the violence has especially soared in recent days with reports of heavy government bombardment of towns and cities and chilling massacres of civilians.
At least 77 people were killed in the wake of the U.N. announcement Saturday across the Middle Eastern nation Saturday, including 43 dead in the Damascus suburbs, the opposition group Local Coordination Committees (LCC) of Syria reported.
The group said at least 1,280 in suburbs around the Syrian capital have been killed in recent months, among them 123 children, 58 people who were publicly executed and at least 50 people who died from torture.
That toll rose Saturday with the deaths of at least 13 — including nine fatally stabbed, one of them a 6-year-old child — in the suburb of Saqba, the LCC reported.
The group also reported continuous shelling in Douma, another Damascus suburb.
"The city has been under a choking siege by the regime's army," the group said. "Local residents are issuing pleas for help for any sort of intervention to provide medical supplies to treat the wounded."
In Hama, the LCC reported fierce clashes between government forces and the rebel Free Syrian Army, comprised mainly of defected soldiers. It said suburban neighborhoods in Aleppo shook in fierce bombing and artillery fire.
The group reported a severe shortage of medical personnel and supplies Saturday in Douma and in the anti-government bastion of Homs after continuous shelling. Another opposition group, the Syrian Observatory for Human Rights, made an "urgent appeal" to U.N. Secretary-General Ban Ki-moon "to immediately and personally intervene" in Homs neighborhoods where, it said, "more than 1,000 families … are stranded (and) humanitarian conditions … are very difficult."
The Syrian government, meanwhile, said 27 of its soldiers and police were buried Saturday, according to the state news agency.
The news agency also announced that Syrian forces had killed Walid Ahmed Aish, a member of the Nusra Front who the Syrians said orchestrated recent car bombings in Damascus. The Syrian government says the Nusra Front has ties to al Qaeda.
U.N. monitors had been able to witness the aftermath of some of the recent violence. For example, some entered the town of Houla a day after opposition activists reported a slaughter there. They also managed to arrive in Qubeir after an alleged massacre there, though they were late after being turned back at checkpoints.
A few days ago, U.N. teams were turned back as they tried to reach al Haffa, which had been under bombardment for eight days. By the time the monitors arrived, al Haffa lay charred and deserted. The monitors said they were overwhelmed by the stench of death.
On some occasions, the monitors themselves have come under fire.
Mood said Saturday that the U.N. observers will no longer conduct patrols, staying in their locations until further notice.
This suspension will be reviewed on a daily basis, Mood said.
"Operations will resume when we see the situation fit for us to carry out our mandated activities," he said.
Meanwhile, the United States said it was tracking a Russian military cargo ship en route to Syria that is carrying weapons, ammunition and a small number of Russian troops.
U.S. intelligence believes the Russians are sending the ship to help fortify its naval base in Syria as the situation in the country continues to spiral out of control, Pentagon officials said.
CNN