Mikati denies arming his supporters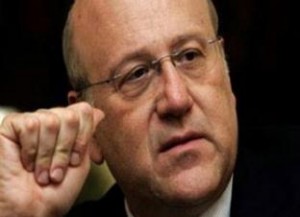 Lebanese Prime Minister Najib Mikati denied during a meeting in the northern Lebanese city of Tripoli his supporters were being armed , National News Agency reported on Tuesday.
"Some have recently spread rumors claiming that my supporters are being armed in Tripoli , but these claims are pure defamation," Mikati told a gathering of civil society organizations in the northern capital.
"Any security incident in Tripoli targets me in the first place," he added.
The PM, who is from Tripoli, also said that the "conspiracy against [the Lebanese northern city] has been persisting since 1975 in order to create a rift between its residents.
Bab al-Tabbaneh and Jabal Mohsen have been gripped by frequent fighting, reflecting a split in Lebanon's political scene in which opposition parties back the revolt in Syria while the ruling coalition, led by Hezbollah, supports the Damascus regime.