Syrian rebels seeking united front to fight Assad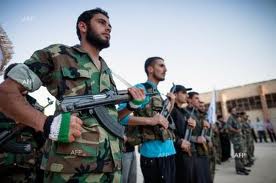 Syrian activists on Monday announced a new rebel coalition that aims to overcome deep divisions within the opposition in its fight against the forces of President Bashar Assad.
The group, the Syrian Rebels Front, declared its formation in a news conference in Turkey that had the hallmarks of a public relations event, including a banner, video presentations and a simultaneous translation service. But it was uncertain how the new organization would coordinate with other sectors of the Syrian opposition, whose failure to unite has hobbled its campaign to topple Assad despite a nationwide uprising that has lasted more than one year.
Khaled al-Okla, one of the organizers, said the fledgling group will coordinate with the Free Syrian Army, a loose coalition of rebel units whose nominal leaders are based on the Turkish side of the border with Syria. Members of the Free Syrian Army acknowledge its commanders have limited or no operational control over rebel units inside Syria, but they say the label has given a public face to the lightly armed factions, who are under heavy pressure from government forces with tanks and artillery.
"We might have some treaties or agreements to coordinate our work in Syria," said al-Okla, who claimed his umbrella group has 12,000 fighters. He also read a statement that said the Syrian Rebels Front had been formed in light of Assad's "scorched earth policy" as well as "the failure of all Arab and international initiatives to rein in Assad from his crimes," suggesting the rebels were giving up on a peace plan proposed by U.N. envoy Kofi Annan. The 15-month-old revolt against Assad's rule has killed up to 13,000 people, according to activist groups.
The Syrian rebel statement said the launching of the new front could serve "as the melting pot that brings together all armed rebel factions across Syrian territory as they seek to topple the criminal regime."
However, some in the audience, which included journalists, were skeptical. One person took a microphone and asked: "Why do we need a new front? There are already a lot of fronts."
The rebel statement cited the killings of more than 100 people, many of them small children, in Houla last week as the height of the Syrian regime's cruelty. The opposition and the government have exchanged accusations over the Houla killings, each blaming the other for the house-to-house killings. U.N. investigators have said there are strong suspicions that pro-regime gunmen are responsible for at least some of the killings.
In a speech on Sunday, Assad defended his government's crackdown on opponents and insisted the revolt was the work of foreign-backed extremists, not reformers seeking change.
The announcement of the new rebel front was accompanied by a video presentation claiming the front has 100 "battalions or fighting formations," and it featured clips of masked fighters declaring their allegiance to the new entity. While some Gulf countries support the idea of arming rebels, Western and Arab allies have been reluctant to supply anti-regime fighters, partly because of their lack of cohesion, and also for fear of igniting a broader and more intense conflict.
Turkey has said it is not providing military aid to Syrian rebels, but it allows opposition groups to organize on its soil and also gives medical and other humanitarian aid to thousands of Syrian refugees, as well as hundreds of army defectors, who have fled their country. Turkey has said it would consider establishing a buffer zone inside Syria if border security deteriorates, though such an outcome does not appear imminent.
Also Monday, a Washington-based refugee advocacy group called on the world to help Syrians who have fled their country's turmoil, saying they are stretching the meager resources of Jordan and Lebanon. Since the Syrian uprising began in March 2011, Jordan has taken in more than 110,000 refugees, and Lebanon 26,000, according to official figures. In Jordan, many refugees are being hosted in private homes, with Jordanian families providing them food and shelter.
Refugees International warned in a written statement that the Syrian refugee crisis "may threaten the political stability of both Lebanon and Jordan, and the international community must scale up humanitarian and development aid to keep both countries on a firm footing."
The Associated Press