Syrian authorities release kidnapped Lebanese farmers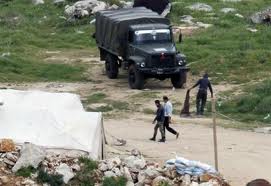 Syrian authorities have released two Lebanese farmers kidnapped last Wednesday by unidentified gunmen in Lebanon's north and taken across the border into Syria, the Lebanese army said.
A statement from the army said Mohammed Yassin Merei and Mahdi Hamdan had been released on Sunday afternoon and handed to the Lebanese intelligence at the Masnaa border crossing. It gave no details on who abducted the men and how they ended up in Syrian custody.
Last week, the farmers' relatives protested the kidnappings by blocking roads in the border town of Abboudiyyeh in Akkar province, where Merei and Hamdan had been seized by five armed Syrians while they were gathering crops.
Northern Lebanon has been used as a sanctuary for Syrian refugees fleeing a government crackdown on a popular revolt against President Bashar al-Assad that has left thousands dead over the past 15 months.
Syrian forces, who have strong links with the Lebanese army and border guards, have at times crossed into Lebanon, shooting and arresting refugees and opposition rebels before retreating back across the poorly demarcated border, residents say.
The Syria crisis has the potential to destabilize Lebanon, where some armed political factions feel they have an interest in Assad staying in power while others support the revolt, which started with peaceful protests in March 2011 but has grown increasingly violent.
Clashes between supporters and opponents of Assad in the Lebanese city of Tripoli left 15 people killed at the weekend.
Reuters