Lebanese army deployed in Tripoli after 15 killed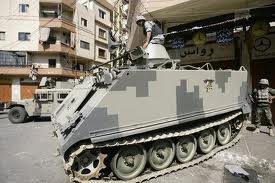 Lebanese troops deployed in the city of Tripoli on Sunday after 15 people were killed in clashes between supporters and opponents of Syrian President Bashar al-Assad, local medics said, the deadliest fighting in Lebanon since Syria's uprising began.
Residents said relative calm had returned to the Mediterranean city since the soldiers took up positions around the city at around 7 a.m. (0400 GMT), after gunmen exchanged heavy machinegun fire and rocket-propelled grenades.
Two people wounded in the fighting died on Sunday, adding to the 13 killed on Saturday. Occasional gunfire could still be heard but was less intense than earlier exchanges.
Prime Minister Najib Mikati and other local politicians held a crisis meeting in Tripoli at the weekend and instructed security forces to use an "iron fist" to quell the violence.
The mainly Sunni Muslim protests against Assad have polarised Tripoli, where a small community of Alawites – from the same offshoot of Shi'ite Islam as Assad – have frequently clashed with majority Sunni Muslims who support the uprising.
Gunmen from the Jebel Mohsen district, home to Tripoli's Alawites, have fought intermittent skirmishes over recent weeks with Sunni Muslim fighters in the Bab al-Tabbaneh area.
The latest clashes began after midnight on Friday and continued throughout Saturday until the army deployment.
The death toll was the highest in a single day in Tripoli, reflecting the increasing threat to stability in Lebanon caused by tensions over neighbouring Syria.
Sunni Muslim fighters have also fought street battles in the capital Beirut, and the kidnapping last month of 11 Lebanese Shi'ites in Syria has further fuelled tensions.
Residents said those killed in Tripoli included civilians caught in the crossfire and that a Lebanese soldier was among dozens who were wounded, at least 10 of them seriously.
The Lebanese National News Agency said there was "shelling across both areas heard every five minutes, and snipers targeting civilians" on Saturday.
The areas have long-standing grievances separate from the Syrian conflict, but the Sunni-led uprising against Assad has caused strife among Lebanon's mixed population, especially in Tripoli, 70 km (43 miles) north of Beirut.
Syria flooded Lebanon with troops early in its 1975-1990 civil war and dominated its neighbour for more than a decade afterwards. It retains significant influence over Lebanon's intelligence apparatus and military, despite having withdrawn troops in 2005.
Reuters