1 dead, 7 injured in Toronto, Canada mall shooting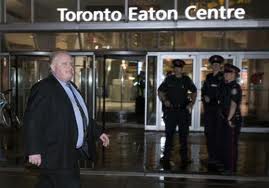 One person was killed and seven others injured Saturday when shots were fired at the Eaton Centre shopping mall in Toronto, police said.
Six of the victims suffered gunshot wounds and one was grazed by a bullet, they said. The eighth victim was a pregnant woman who was knocked to the ground in the melee and suffered minor injuries. Two of the victims are in critical condition, including a 13-year-old boy, police said.
"At this time, we do not have the shooter," said Constable Victor Kwong with the Toronto police in response to a reporter's question, declining to provide more details.
Toronto Police Chief Bill Blair said authorities do have a preliminary description of the susepct, but are waiting to release it to the public until they can gather more details.
"A lot of innocent people were hurt and a lot of innocent people were put at risk. And we will be relentless in our pursuit of the individual, or individuals, who were responsible for this violence," he said.
"This shooting was not only wanton and incredibly dangerous, but also reckless as to the safety of others," Blair said, adding that he does not know where the suspect might have fled.
Police are talking to witnesses and scouring video evidence of the shooting, which took place in the food court area. They were first alerted to the incident shortly before 6:30 p.m. ET.
"It's terrible when you hear something like this. My heart goes out to the families that have been affected by this terrible crime," said Toronto Mayor Rob Ford.
A call to the mall confirmed that the shopping center was on lockdown. No other details were available.
CNN