The rise and fall of Egypt's Mubarak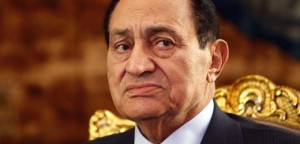 On Saturday   2, 2012, the 84-year-old former Egyptian President Hosni Mubarak  was   sentenced to life in prison. Here are the key  events in the rule and downfall of the former Egyptian President.
– Mubarak took office in 1981 after his predecessor Anwar Sadat was assassinated by Islamic militants during a military parade. Mubarak, Sadat's vice president, escaped with a minor hand injury.
– In 1981, Mubarak implemented emergency laws as part of his battle against militants and expands police powers.
– In one of his first moves, Mubarak said Egypt would stick to the 1979 peace treaty with Israel, the first by any Arab nation with the Jewish state.
– Mubarak became a major mediator in the Arab-Israeli peace process, remaining a consistent U.S. ally and bolstered by billions of dollars in U.S. aid.
– During the 1990s, militants launched an uprising aimed at setting up an Islamic state. Gunmen attacked police, assassinated politicians and targeted foreign tourists, a key source of revenue. In 1995, militants attempted to assassinate Mubarak as he visited Ethiopia.
– Mubarak responded by arresting thousands, crushing the movement by 1997.
– Mubarak's government subsidized goods such as bread, cooking oil and gasoline. When bread riots turned violent in 2008, he fired up military ovens to help quell discontent.
– Mubarak engineered constitutional amendments that, according to critics, guaranteed ruling party victories in elections. One banned religious political parties, blocking the Muslim Brotherhood from officially participating in political life.
– Mubarak was re-elected three times in staged, one-man referendums in which he routinely won more than 90 percent approval.
– In 2005, Mubarak allowed the first ever multi-candidate presidential election, which he won easily over 10 other candidates amid charges of voter fraud and intimidation.
– The 2010 parliamentary elections were widely deplored as rigged, and the Brotherhood responded by withdrawing its candidates who ran as independents from a second round of voting.
– On Jan. 25, 2011, thousands of anti-government protesters clashed with police in Cairo during a Tunisia-inspired demonstration to demand Mubarak's ouster. The day marked the start of Arab Spring in Egypt.
– After three weeks of massive protests against his rule, Mubarak resigned on Feb. 11, 2011, handing power to the military.
– On April 13, authorities detained Mubarak and his two sons for investigation of corruption, abuse of power and killing of protesters. A month later, Mubarak is ordered to stand trial on charges of corruption and conspiracy in the deadly shooting of protesters.
– Mubarak's trial opened in Cairo on Aug 3, 2011. From a gurney in the defendant's cage, Mubarak denied all charges against him.
– On Feb. 22, 2012, Mubarak, who rarely spoke during the trial, turned down his last chance to address the court during the defense's final arguments.
– On June 2, 2012, the 84-year-old Mubarak is sentenced to life in prison and is ferried by helicopter from the police academy where the trial was held to the Torah prison in Cairo where his sons and members of his regime have been either serving prison sentences or held pending trials over a variety of corruption charges.
Mubarak's helicopter landed at Tora prison but he wept and refused to leave the aircraft security official told reporters, but eventually he was convinced to enter it.
The Associated Press.