Turning point ? Russia condemns Syria massacre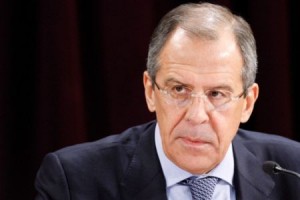 A weekend massacre of more than 100 people emerged as a potential turning point in the Syrian crisis Monday, galvanizing even staunch ally Russia to take an unusually hard line against President Bashar Assad's government.
Analysts said Russia may be warning Assad that he needs to change course or lose Moscow's support, which has been a key layer of protection for the Syrian government during the uprising that began in March 2011.
Russia has grown increasingly critical of Damascus in recent months, but Foreign Minister Sergey Lavrov's latest comments were unusually strong. Although he said opposition forces have terrorists among them, he put the blame for 15 months of carnage primarily on Assad's government.
"The government bears the main responsibility for what is going on," Lavrov said in Moscow following a meeting with British Foreign Secretary William Hague. "Any government in any country bears responsibility for the security of its citizens."
Alexei Malashenko, a Middle East expert with the Carnegie Moscow Center, said Lavrov's comments suggest Russia may be backing away from its long-standing support for Damascus.
"Bashar Assad is driving himself and Russia into a corner," Malashenko said. "Bashar has definitely gotten the sense that he may lose Russia's sympathy, and he may step back a bit."
It is not clear whether Assad's forces were exclusively to blame for the slaughter of 108 people Friday in Houla, a collection of poor farming villages in Homs province. The United Nations said 49 children and 34 women were among the dead; some had bullet holes through their heads.
The U.N. Security Council blamed Syrian forces for artillery and tank shelling of residential areas, but it did not clearly state who was responsible for the close-range shooting deaths and "severe physical abuse" of civilians.
Activists from the area said the army pounded the villages with artillery and clashed with local rebels. They said pro-government gunmen later stormed the area, doing the bulk of the killing by gunning down men in the streets and stabbing women and children in their homes.
The Syrian government rejected that account entirely, saying soldiers were attacked in their bases and fought back in self-defense without leaving their bases.
Russia blamed both the government and the rebels for the Houla massacre.
"Both sides have obviously had a hand in the deaths of innocent people, including several dozen women and children," Lavrov said. "This area is controlled by the rebels, but it is also surrounded by the government troops."
He said Russia has no interest in propping up Assad but wants Syria to guide its own transition under a plan brokered by special envoy Kofi Annan.
"We don't support the Syrian government; we support Kofi Annan's plan," Lavrov said.
Moscow's pro-Syria stance has been motivated in part by its strategic and defense ties to Damascus, including weapons sales. Russia also rejects what it sees as a world order dominated by the U.S.
Losing Russian support could be disastrous for Assad because his crackdown has left him almost completely isolated internationally. Russia and China have stood by him so far, using their veto power to block U.N. resolutions against him.
Hilal Khashan, a political science professor at the American University of Beirut, said the Houla massacre appears to be ushering in a change in Russia's position.
"There is a shift and the momentum against the regime is gathering," Khashan said. "The momentum is building and the Russians are not blocking the rising momentum."
The Syrian conflict is among the most explosive of the Arab Spring, in part because of Syria's allegiances to powerful forces, including Lebanon's Hezbollah and Shiite powerhouse Iran.
Activists say as many as 12,000 people have been killed since the uprising began. The U.N. put the toll as of March, a year into the uprising, at 9,000, but many hundreds more have died since.
Annan's peace plan, which calls for a cease-fire and dialogue, has been faltering for weeks. But Western leaders have pinned their hopes on his diplomatic pressure, since the U.S. and others are unwilling to get deeply involved in another Arab nation in turmoil.
Annan arrived in Damascus on Monday for talks with Assad and other officials and called on "every individual with a gun" in Syria to lay down arms, saying he was horrified by the Houla massacre.
Britain's Prime Minister David Cameron and French President Francois Holland spoke on the phone and expressed their desire to work with Russia to resolve the crisis in Syria. A British spokeswoman said Cameron and Hollande agreed to act together to "bring an end to the bloody suppression of the Syrian people."
Activists reported fresh violence Monday, saying troops shelled several neighborhoods in Hama, killing at least 24 people.
Associated Press