Syrian activists: shelling in Hama kills over 40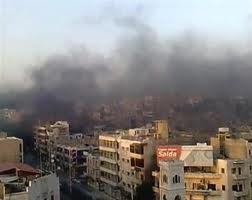 A government assault on rebel areas in the central Syrian city of Hama has killed as many as 42 people, most of them civilians, an opposition activist claimed Monday.
Mousab Hamadee, an activist located near Hama, told The Times that the neighborhoods of Mashaa Junoub Almalaab and Alarbaeen, along with some other areas, came under heavy shelling by government troops on Sunday evening, killing civilians and two rebels from the Free Syrian Army, injuring others and destroying homes.
Fighting had calmed by Monday, but the activist said occasional explosions could still be heard.
"Shelling intensified around 9 p.m. last night," he said via Skype. "In Mashaa Junoub Almaaab, 70% of the houses have been destroyed."
There was no immediate response from Syrian officials to the reports of fresh violence in Hama. The activists' reports could not be independently verified as the government has restricted media access to conflict zones.
Hamadee said signs that something was up came on Sunday morning when military reinforcements began arriving in the city. Shelling of areas where rebel forces were located followed. The assault on the neighborhoods allegedly was in retaliation for rebel attacks on government posts.
The activist said the death toll was expected to rise as it was believed people were trapped under the rubble of houses that were damaged in the shelling.
The Britain-based pro-opposition group Syrian Observatory for Human Rights put the death toll at 29, including several children and women.
"They were all gunned down by Syrian regular forces automatics or heavy machine-guns or killed by the mortars falling" in areas of the city, the organization said in a statement.
Reports of an attack on the city came on the heels of the deaths of more than a 100 people in the town of Houla in the Homs province on Friday and shortly before the arrival in Damascus of U.N. envoy Kofi Annan.
LA Times