Russian FM urges unbiased probe of Syrian Massacre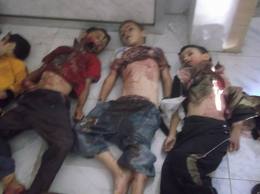 Russian Foreign Minister Sergei Lavrov on Tuesday expressed deep concern over a recent massacre in the Syrian town of Houla and called for an unbiased investigation of the tragedy.
An objective and unbiased probe into all circumstances of what happened [in Houla] should be carried out under the auspices of the UN Supervision Mission in Syria, Lavrov told UN and Arab League special envoy Kofi Annan on the phone, according to a statement posted on the Russian Foreign Ministry's website.
Lavrov also said both sides in Syria should give up violence to prevent any such incidents in the future and added that the task to implement Annan's peace plan is becoming more urgent in the current circumstances.
Annan said he hopes for further progress and thanked Russia for support of his efforts, the ministry said.
Most of the 108 people killed in the Syrian town of Houla were civilians, nearly half of them children, and entire families were shot dead in their homes, the U.N. human rights office said on Tuesday. Witnesses and survivors have told U.N. investigators that most victims died in two bouts of summary executions carried out by "shabbiha " or "Shabbeeha" militiamen loyal to President Bashar al-Assad in the nearby village of Taldaou last Friday, U.N. rights spokesman Rupert Colville said on Tuesday.
"What is very clear is that this was an absolutely abominable event that took place in Houla, and at least a substantial part of it were summary executions of civilians – women and children," Colville said.
"At this point it looks like entire families were shot in their houses," he said.
Ria Novosti, Reuters