5.8 earthquake 'kills nine' in Italy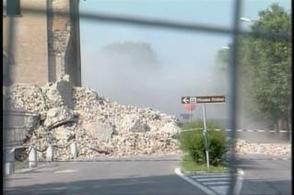 At least nine people are reported dead in a magnitude 5.8 earthquake that struck the same area of northern Italy stricken by another fatal tremor on May 20.
Premier Mario Monti pledged in a hastily called news conference two hours after the quake that the government will do "all that it must and all that is possible in the briefest period to guarantee the resumption of normal life in this area so special, so important and so productive for Italy".
The United States Geological Survey said the quake on Tuesday, which struck at 0700 GMT, was centred 40km north-west of the city of Bologna. It hit the area where a 6.0 quake killed seven people earlier this month – and just as citizens had begun to resume some semblance of normality.
The news agency ANSA reported that nine people had died, while news agency LaPresse said others were buried under the rubble of collapsed homes and factories.
Television footage showed evacuees from the May 21 quake peering out of shaking emergency tents in disbelief.
The earlier quake was described by Italian emergency officials as the worst to hit the region since the 1300s. In addition to the deaths, it knocked down a clock tower and other centuries-old buildings and caused millions in losses to a region known for making Parmesan cheese. Its epicentre hit about 35km (22 miles) north of Bologna.
Irish Examiner