In Syria, 'Horrified' Annan calls for end to bloodshed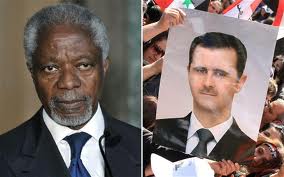 Special envoy Kofi Annan said Monday he was horrified by a gruesome weekend massacre that killed more than 100 people in Syria, and called on "every individual with a gun" to lay down arms and stop the killing.
Annan arrived in Damascus Monday for talks with Syrian President Bashar Assad and other senior officials.
"I have come to Syria at a critical moment in this crisis," Annan said as he arrived in Damascus on Monday. "I am personally shocked and horrified by the tragic incident in Houla."
He called on all sides of the conflict to end the bloodshed.
"This message of peace is … for everyone, for every individual with a gun," he said.
The mass killings Friday in Houla, a collection of villages in the central province of Homs, prompted sweeping international criticism of the Syrian regime, although differences emerged from world powers over whether his forces were exclusively to blame.
Syria's strong ally, Russia, said both the regime and the rebels were to blame.
"Both sides have obviously had a hand in the deaths of innocent people, including several dozen women and children," Russian Foreign Minister Sergey Lavrov said Monday. "This area is controlled by the rebels, but it is also surrounded by the governmental troops."
Lavrov spoke after talks with visiting British Foreign Secretary William Hague in Moscow.
Syria has strongly denied allegations that its forces carried out the killings, but the U.N. Security Council after an emergency session Sunday condemned government forces for shelling residential areas.
AP