Iran's nuclear program becomes more radioactive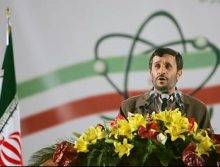 There is new evidence that Iran has made significant progress toward its apparent goal of becoming a nuclear power. It turned up in the latest inspection by U.N. specialists.
The uranium enrichment facility dug into the side of a mountain is the ground zero of Iran's nuclear program and it just became more radioactive — literally.
A new report from the International Atomic Energy Agency says inspectors found traces of uranium enriched to 27 percent — closer to bomb-grade levels than anything Iran has produced before.
Nuclear experts say it was probably just a mistake by technicians who intended to go only to 20 percent, but still evidence Iran is installing higher quality centrifuges capable of spinning uranium gas to higher levels of enrichment in less time.
In the last three months, Iran has installed 350 more centrifuges at the underground complex known as Fordow, bringing the total to more than 1,000, and adding fuel to the fire of suspicions held by many, including Dennis — once the Obama administration's point man on Iran.
"It certainly creates an impression that the only thing that they're about is developing a nuclear weapons capability," Ross said in an interview with CBS News.
In talks this week in Baghdad, the U.S. and five other nations demanded Iran cease enriching uranium to the 20 percent level.
Iran in turn demanded a lifting of sanctions which are crippling its economy. The two sides could only agree to meet again next month — a leisurely pace well short of what Ross says is needed.
"An intensive character to the talks that gives you a reason to believe that these kinds of issues that are highly technical can be worked out in some sort of reasonable time frame," Ross said.
Although Defense Secretary Leon Panetta once thought Israel might strike as early as this spring, he and other U.S. officials now believe President Obama's talks with Israeli Prime Minister Benjamin Netanyahu in March convinced the Israelis to hold off.
"I think in fact that there is an understanding between the United States and Israel that diplomacy should be allowed to play out," Ross said.
There also seems to be an understanding that if diplomacy fails, the U.S. will join Israel in striking Iran.
CBS
On IAEA report on traces of higher enrichment at Iran site
Vienna: Inspectors have found traces of uranium enriched at an Iranian site to a level that is slightly closer to the threshold needed to arm nuclear missiles, the U.N. nuclear agency said Friday.
Iran said the find was a technical glitch, according to the International Atomic Energy Agency report. The agency said it was assessing that explanation and has asked for more details, but analysts and diplomats said Iran's version sounded plausible.
The news comes a day after Iran and six world powers meeting in Baghdad found they were still far apart over how to oversee Tehran's atomic program but scheduled more talks next month as an alternative to possible military action.
Iran is under several rounds of U.N. sanctions for its failure to disclose information on its controversial nuclear program. Tehran says it is enriching uranium to provide more nuclear energy for its growing population, while the U.S. and other nations fear that Iran doing that so it can later make nuclear weapons.
In its report, the nuclear agency said its experts have found particles enriched up to 27 percent at the Fordo enrichment plant in central Iran.
That is still substantially below the 90-percent level needed to make the fissile core of nuclear arms. But it is above Iran's highest-known enrichment grade, which is close to 20 percent and can be turned into weapons-grade material much more quickly than the Islamic Republic's main stockpile, which can only be used for fuel at around 3.5 percent enrichment.
Calls to Ali Asghar Soltanieh, Iran's chief delegate to the IAEA, were rejected and the switchboard at the Iranian mission said he was not available.
Several diplomats — who demanded anonymity because their information is privileged — said the find did not necessarily mean that Iran was covertly raising its enrichment threshold toward weapons-grade level. They said the centrifuges that produce enriched uranium could have over-enriched at the start as technicians adjusted their output — an assessment shared by nonproliferation expert David Albright.
Albright, whose Washington-based Institute for Science and International Security looks for signs of proliferation, said a new configuration at Fordo means it tends to "overshoot 20 percent" at the start.
"Nonetheless, embarrassing for Iran," he wrote in an email to the AP.
The latest attempt to persuade Iran to compromise and let U.N. experts view its nuclear program ended inconclusively Thursday at a meeting in Baghdad. At the talks, six nations — the United States, Russia, China, Britain, France and Germany — failed to persuade Tehran to freeze its 20 percent enrichment. Envoys said the group will meet again next month in Moscow.
Iran went into the Baghdad talks urging the West to scale back on recently toughened sanctions, which have targeted Iran's critical oil exports and have effectively blackballed the country from international banking networks. The 27-nation European Union is set to ban all Iranian fuel imports on July 1, shutting the door on about 18 percent of Iran's market.
Iran started enriching uranium to 20 percent last year, mostly at Fordo, saying it needed the material to fuel a research reactor and for medical purposes. Still, its long-standing refusal to stop enrichment and accept reactor fuel from abroad has sparked fears it wants to expand its domestic program to be able to turn it toward making weapons.
Those concerns have increased since it started higher enrichment at Fordo, which is carved into a mountain to make it impervious to attack from Israel or the United States. Those two nations have not ruled out using force as a last option if diplomacy fails to curb the Islamic Republic's nuclear program.
Saeed Jalili, Iran's top nuclear negotiator, offered a lukewarm assessment of the latest negotiations, in light of European and American refusal to lift tough sanctions against Iran as Tehran had hoped.
"The result of the talks was that we were able to get more familiar with the views of each other," Jalili told reporters.
European diplomats focused on the positives.
"It is clear that we both want to make progress and that there is some common ground," European Union foreign policy chief Catherine Ashton, who led the Baghdad talks, told reporters. "However, significant differences remain. Nonetheless, we do agree on the need for further discussion to expand that common ground."
But in Washington, Secretary of State Hillary Rodham Clinton said significant differences remain between the two sides and that it's now up to Iran "to close the gaps."
"Iran now has the choice to make: Will it meet its international obligations and give the world confidence about its intentions or not?" Clinton said.
Iran already has around 700 centrifuges churning out 20-percent enriched uranium at Fordo. The diplomats said the report notes that — while Iran has set up around 350 more centrifuges since late last year at the site — these machines are not enriching.
While the reason for that could be purely technical, it could also be a signal from Tehran that it is waiting for progress in the negotiations.
Associated press