Kidnapped Shiites: Hezbollah urges calm, Hariri condemns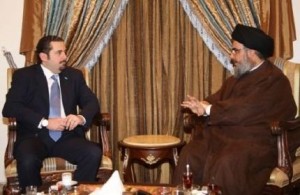 The leader of Lebanon's Hezbollah militant group has appealed for calm following the abduction of 12 Lebanese Shiites in Syria and former PM condemned the abduction and called for their immediate release.
Security officials say Syrian rebels kidnapped the men Tuesday as they returned from a religious pilgrimage. The abductions immediately sparked tensions in Lebanon. Shiites in Beirut's southern section took to the streets and burned tires in protest.
In a televised speech, Hezbollah's Sayyed Hassan Nasrallah appealed for calm. He warned his followers against carrying out any revenge attacks on Syrians.
Hariri urges their release
Former Lebanese PM and Future Movement leader MP Saad Hariri condemned the abduction of 13 Lebanese Shia men in Syria and called for their immediate release, according to a statement issued by Hariri's press office.
"We condemn the kidnapping of our Lebanese brothers in Syria no matter what party is behind the abduction, and we call for their immediate release," Hariri said.
He also voiced his solidarity with the families of the kidnapped men.
"The kidnappers must know that the Lebanese people are united in this case. [Lebanese parties] deal with this issue as a Lebanese national cause," he added.
AP, Now Lebanon