UN concerned over Syria violence spillover into Lebanon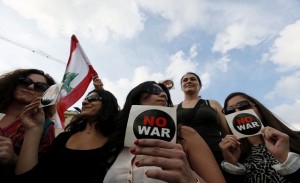 U.N. Secretary-General Ban Ki-moon expressed concern on Monday that violence in Syria could spill over into neighboring Lebanon and reiterated fears it could also develop into a full-blown civil war.
Following a meeting with new French President Francois Hollande on the sidelines of the NATO summit in Chicago, Ban said the world was at "a pivotal moment in the search for a peaceful settlement to the crisis" in Syria.
In a statement released by his office, the U.N. chief said he was "extremely troubled about the risk of an all-out civil war (in Syria) and was concerned about the outbreak of related violence in Lebanon."
Derek Plumbly, the U.N. special coordinator for Lebanon, expressed concern over the latest violence and urged dialogue between the rival parties in Lebanon.
"Differences must be addressed through dialogue, not resort to violence," he said in a statement.
Two people were killed and at least 18 others were wounded in the clashes that erupted late Sunday and continued early on Monday, Al Arabiya reported.
The clashes involved pro- and anti-Assad regime groups.
The violence erupted hours after reports emerged that Lebanese soldiers had shot dead Sheikh Ahmad Abdul Wahid, a prominent anti-Syrian regime Sunni cleric, and his bodyguard, when their convoy supposedly failed to stop at a checkpoint in north Lebanon on Sunday.
Washington also expressed concern over the killings and urged restraint.
"We welcome the commitment of the Lebanese government and the Lebanese Armed Forces to conduct a swift and transparent investigation of the shooting incident," U.S. State Department deputy spokesman Mark Toner said.
"And we call on all parties to exercise restraint and respect for Lebanon's security and stability," he said.
The U.S. embassy in Lebanon advised its citizens of the potential for continued demonstrations, road blockages and violence during the three days of mourning called for Wahid's death.
Amid fears the situation might deteriorate, four Gulf countries – Kuwait, Qatar, Bahrain and United Arab Emirates – have warned their citizens against travel to Lebanon.
Sheikh Nabil Kaouk, a high-ranking member of Hezbollah, hit out at the opposition on Monday accusing it of transforming the north of the country into a rear base for Syrian rebels.
"The opposition has intentionally dragged Lebanon into the Syrian crisis and transformed it into into a corridor and base for armed Syrians," he told a rally in the eastern city of Baalbek.
Last week Syria's U.N. Ambassador Bashar Jaafari sent a letter to Ban and the U.N. Security Council accusing some Lebanese factions of "incubating" al-Qaeda and the Muslim Brotherhood and helping them to take root along the Syrian border in order to launch attacks on Syria.
He also accused Turkey and Libya of arming Syria's opposition battling the forces loyal to President Bashar al-Assad for more than a year.
Containing the crisis
Lebanese newspapers on Monday morning carried ominous headlines warning of civil strife.
The circumstances surrounding Sunday's shooting death of Sheikh Abdul-Wahid remained unclear but the state-run National News Agency said the cleric and his bodyguard appeared to have been killed by soldiers after their convoy failed to stop at an army checkpoint.
A judicial official said that 21 soldiers, including three officers, were being questioned by military police in relation to the sheikh's death.
The Supreme Islamic Legislative Council, the top Sunni religious body in Lebanon, issued a statement describing Abdul-Wahid's killing as an "assassination crime par excellence" and urged self-restraint.
It also called for referring the killing to the Judicial Council, which is charged with cases seen as destabilizing national security.
The streets in the capital were calmer by Monday morning but some shops remained closed and many parents kept children home from school.
The violence in Beirut's neighborhood of Tariq Jadidah erupted hours after Sheik Abdul-Wahid and his bodyguard were shot dead.
Police commander Maj. Gen. Ashraf Rifi toured the neighborhood Monday and told reporters that "things will be getting better." He said police and army forces sent patrols into Tarik Jadidah to "reassure the people."
The fighting underscores how the bloodshed in Syria, where President Bashar Assad's regime is cracking down on an uprising against his rule, can fuel violence across the border.
Lebanon has a fragile political fault line precisely over the issue of Syria.
Lebanon and Syria share a complex web of political ties and rivalries, which can easily turn violent. Last week, clashes sparked by the Syrian crisis killed at least eight people and wounded dozens in the northern city of Tripoli.
The Lebanese opposition has accused Assad of seeking to sow chaos in Lebanon in order to relieve the pressure on his embattled regime.
Syria long held sway in Lebanon politics and had troops stationed in the country for 29 years until it was forced to withdraw them in 2005 following the assassination of ex-premier Rafiq Hariri.
More than 12,000 people, the majority of them civilians, have died in Syria since an anti-regime revolt broke out in March last year, according to the Syrian Observatory for Human Rights.
Al Arabiya
Photo: Lebanese activists say "No to War" in a protest in downtown Beirut's Martyrs Square on Monday May 21, 2012 after residents of a Beirut suburb fired heavy machine guns and rocket-propelled grenades at each other during the night. (Reuters)